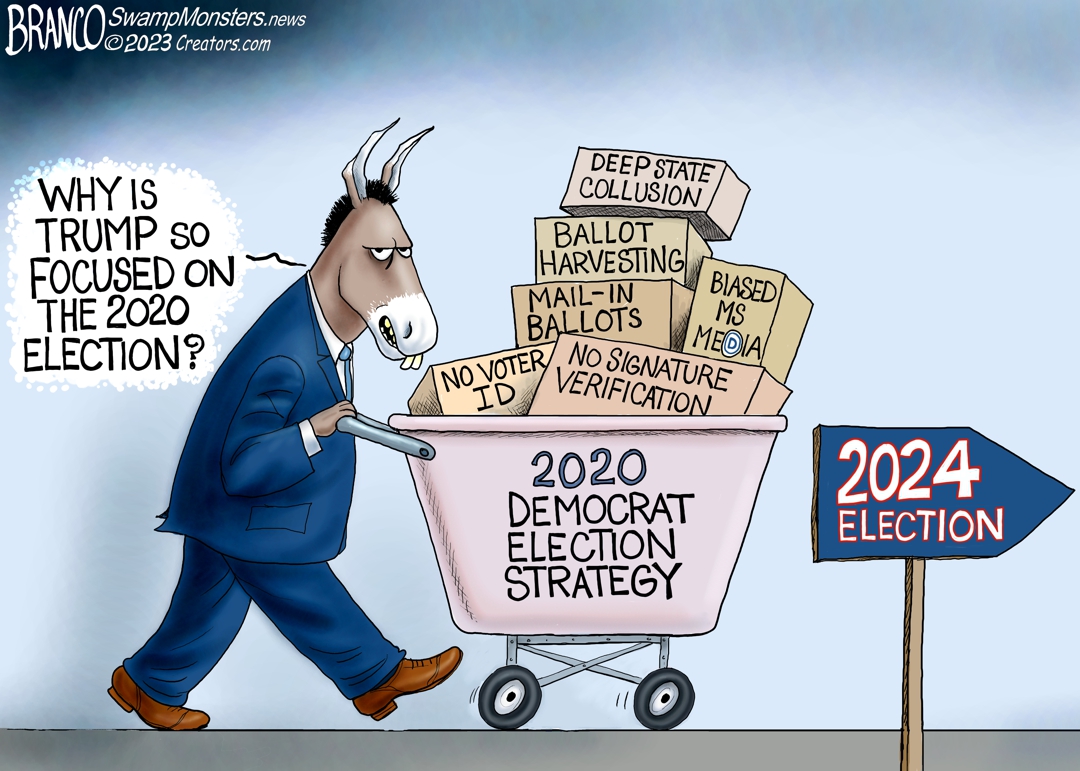 Just so you know …

The Durham report proved the FBI, Hillary Clinton, Joe Biden, and Barack Obama framed President Trump to win an election and destroy his first term after he won.

If this isn't treason, nothing is.

— Catturd ™ (@catturd2) May 21, 2023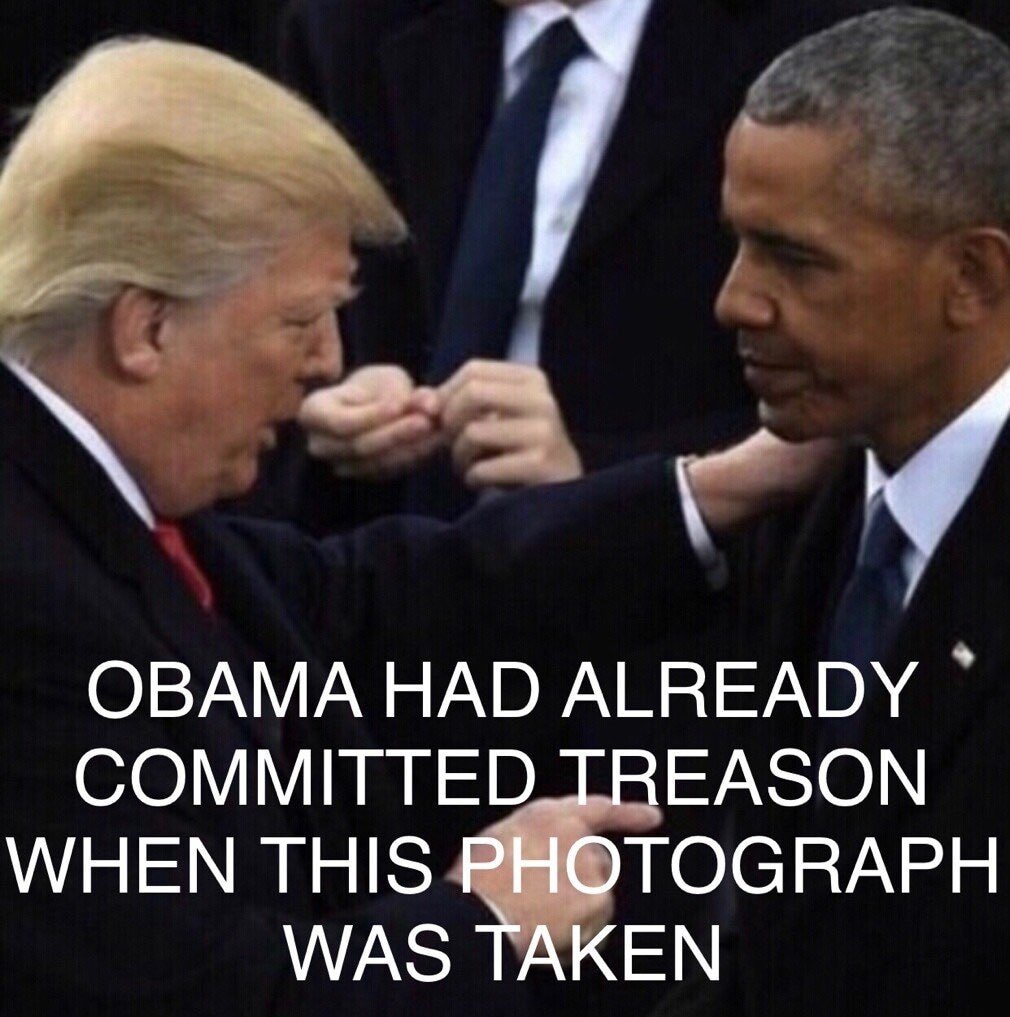 Everyone has missed the real revelation of the Durham Report: Obama committed Treason.

We now know for a fact this was a fraud made up by Hillary. We also know that Hillary laid out this scam to Obama and Biden in the Oval Office. Obama gave his approval. Then Obama rigged the… pic.twitter.com/N7lAptLE9w

— 🦅 Eagle Wings 🦅 (@CRRJA5) May 21, 2023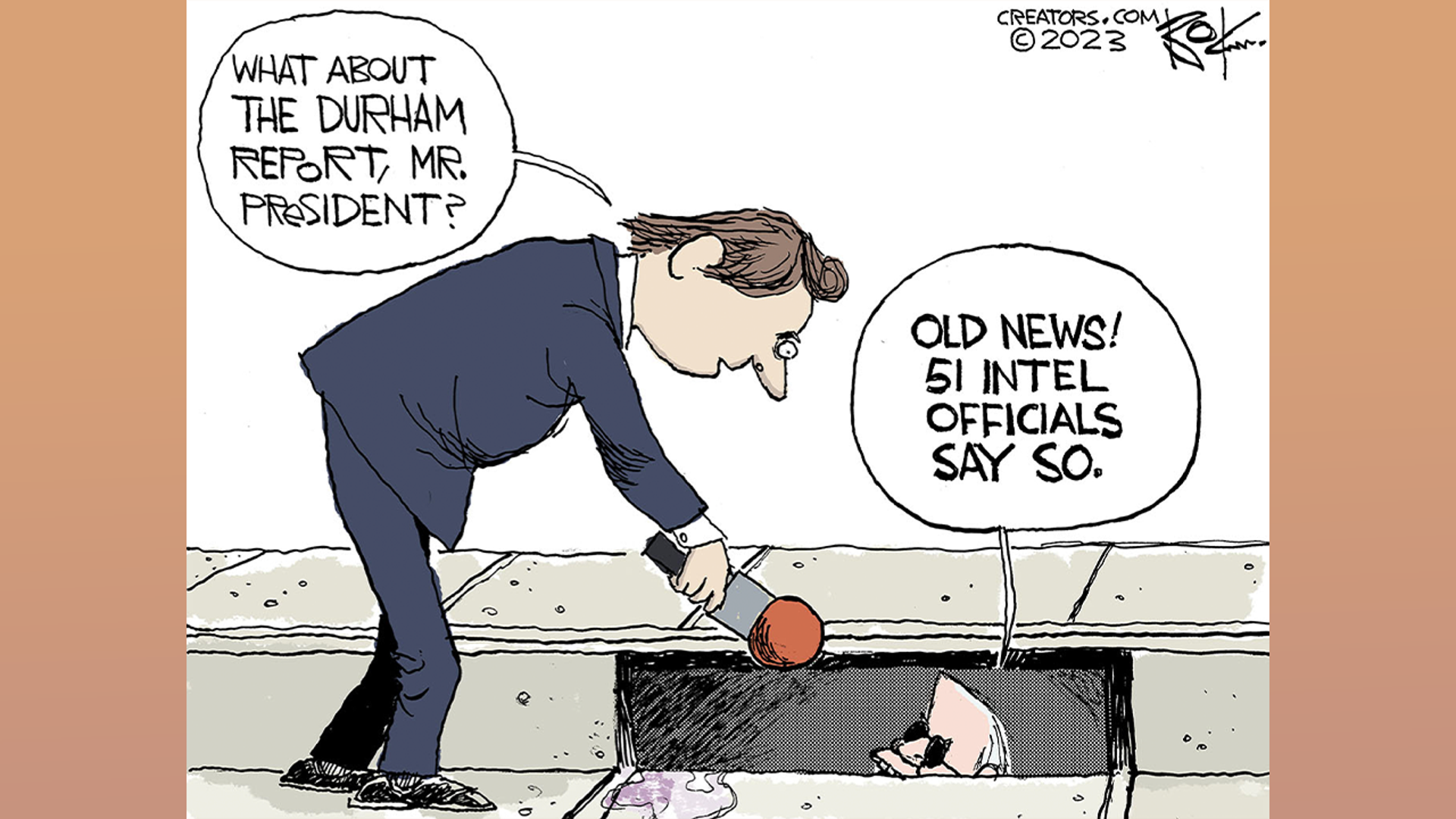 Steve Dewey: The Deep State's Deeper Involvement in Biden's 2020 Election Campaign: The CIA was behind the publication of the Hunter Biden disinformation story.
DO! IT!…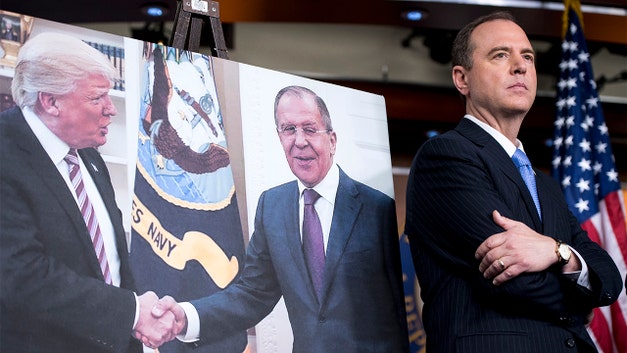 Remember, Pelosi wants Schiff to replace DiFi as Senator…
Peter Kasperowicz: PAYBACK TIME – House Republican Rep. Anna Paulina Luna moves to slap Schiff with $16M fine for 'lies' about Trump and alleged Russian collusion: The fine is roughly half the cost of the Trump-Russia probe, which found no collusion
The DeSantis 2024 Launch with Elon at 6:00pm tonight:
Alexa Corse and Alex Leary: Ron DeSantis to Launch 2024 Presidential Run in Twitter Talk With Elon Musk: Florida governor and Tesla CEO to speak Wednesday on Twitter Spaces
Out of their f**king feeble minds…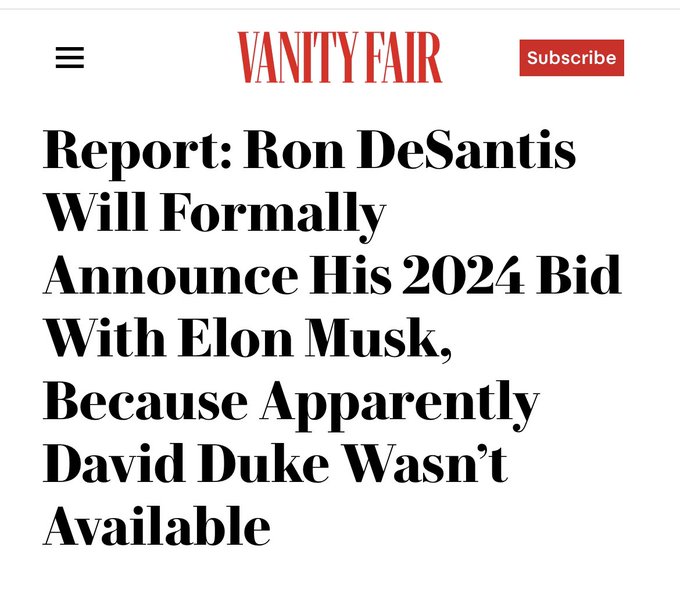 Twitchy: Vanity Fair compares Elon Musk to David Duke in insane rant over DeSantis's Twitter campaign launch
And West Point graduates will see she/her with their/them's own eye! With their/them's own eyes!
Military Times: VP Harris to be first woman to deliver West Point graduation speech
Never forget, the left desperately wanted this guy on the SCOTUS bench:
My column in The Messenger is posted on the recent decision not to prosecute Rachael Rollins, the U.S. Attorney for the District of Massachusetts. The decision follows a pattern of DOJ refusing to charge its own. It is a league (and license) of their own. https://t.co/zbWqsBh2ys

— Jonathan Turley (@JonathanTurley) May 24, 2023
Jonathan Turley: A 'Rollins Defense' for Trump? Justice Department Again Declines to Prosecute One of Its Own
Avoid getting "Budwisered":
Welp, 'barn door vs horse', 'train vs station', 'ship vs sail'…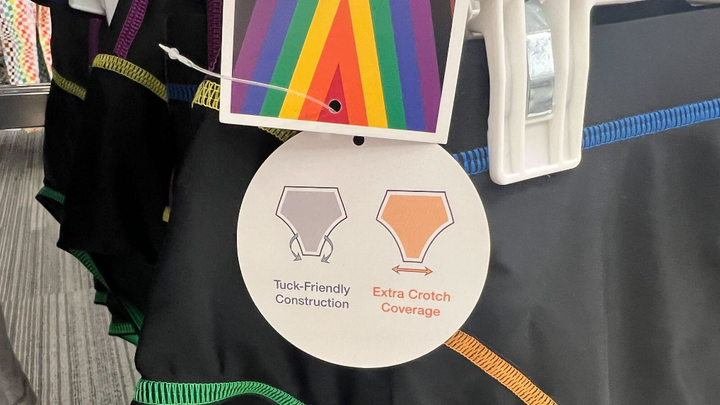 Brian Flood: Target holds 'emergency' meeting over LGBTQ merchandise in some stores to avoid 'Bud Light situation': Some southern locations move Pride displays, apparel away from storefronts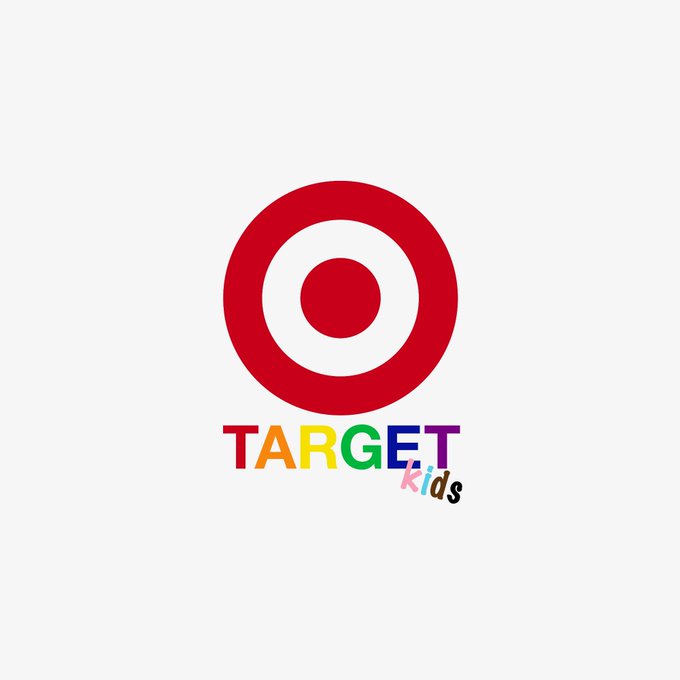 CEO of Target Brian Cornell selling out the LGBTQ+ community to extremists is a real profile in courage.

This isn't just a couple stores in the South. There is a systematic attack on the gay community happening across the country.

Wake up America.

This doesn't stop here.… https://t.co/1vRgukaT0g

— Gavin Newsom (@GavinNewsom) May 24, 2023
Your state is failing.

— Maggie (@drillanwr) May 24, 2023
Anders Hagstrom: Gavin Newsom warns of nationwide 'systematic attack' on LGBTQ groups after Target limits 'Pride' collection: Target removed some products designed by a Satanist LGBT fashion group
Twitchy: Mollie Hemingway & others Target more 'straight regime propaganda' from the AP
Meanwhile, the MLB learned nothing since their 'virtue signaling' debauchery in the 2021 World Series…
Eric Lendrum: LA Dodgers Slammed for Caving to Anti-Catholic Drag Queen Group
Abigail Anthony: 'Queer and Trans Nuns' : Dodgers Disinvite, Then Re-Invite, Anti-Catholic Group to Pride Night
Eh, a target rich environment…
Terresa Monroe-Hamilton: Oh the humanity: Cross-dressing luggage thief Sam Brinton to be held in men's jail
Back in the olden days, nobody messed with a person's horse, or else. Many of the 'hangings' were horse thieves. Why? Because the horse was transportation back then. And if a person's horse was messed with it was basically a threat to that person's life and livelihood. No different today, folks…
"When food can't be produced without diesel tractors, and even the minimal amount can't be transported to inner cities by the few electric 18-wheelers that can be charged, there are no electric cargo carrying ships moving produce and blackouts are nationwide, Biden and 203 delusional politicians will be sitting comfortably in their government supplied residences, guarded by armed police, drinking Bud Lite and laughing."
Thomas Catenacci: House votes to end Biden's crackdown on gas-powered trucks, four Dems join GOP
The House passed legislation on Tuesday rejecting a Biden administration environmental regulation targeting heavy-duty vehicle tailpipe emissions.

In a 221-203 vote, the House approved the resolution with 217 Republicans and four Democrats voting in favor. In April, Rep. Troy Nehls, R-Texas, a member of the Transportation Committee highways and transit subcommittee, introduced the resolution as a companion bill to one that Sen. Deb Fischer, R-Neb., unveiled in the Senate two months earlier.

"Folks, I want to be crystal clear today," Nehls remarked on the House floor ahead of the vote. "Woke bureaucrats in Washington are on a climate justice crusade using the heavy hand of government to go after the trucking industry that keeps America moving. And in the last three decades, we've made significant, significant strides in the right direction to decrease emissions and increase efficiency."

"The EPA unilaterally imposed this detrimental rule which could lead to a litany of further supply chain disruptions across the country, hit the smaller mom-and-pop trucking companies the hardest and pass along increased costs to the American consumer," he said. "This is exactly why it is imperative that the House passes this joint resolution to nullify this burdensome regulation."

In December, the Environmental Protection Agency (EPA) finalized the rules that it said at the time were the "strongest-ever national clean air standards to cut smog- and soot-forming emissions from heavy-duty trucks." The new standards went into effect on March 27, but will be implemented for new trucks sold after 2027…

President Joe Biden, though, has vowed to veto the resolution, and the close vote in both chambers indicates there aren't enough votes to override a veto. Democrats continue to argue that the regulations are necessary to boost public health…
What's the frequency, Kenneth…
Susie Moore: Ford Throws It in Reverse – Scuttles Plans to Scrub AM Band From New Vehicles: According to CEO Jim Farley, the company had a change of heart "after speaking with policy leaders about the importance of AM broadcast radio as a part of the emergency alert system."
And therein lies the globalist 'threat and fear' agenda:
We learned a Hell of a lot about the powers that be during the pandemic, and after. It was called conspiracy theories, yet, most all of what we'd suspected and said has been proven correct, and a conspiracy. But don't doubt that those same conspirators also learned a lot as well during these last three years and will 'adjust accordingly' when the time comes to rule over us again…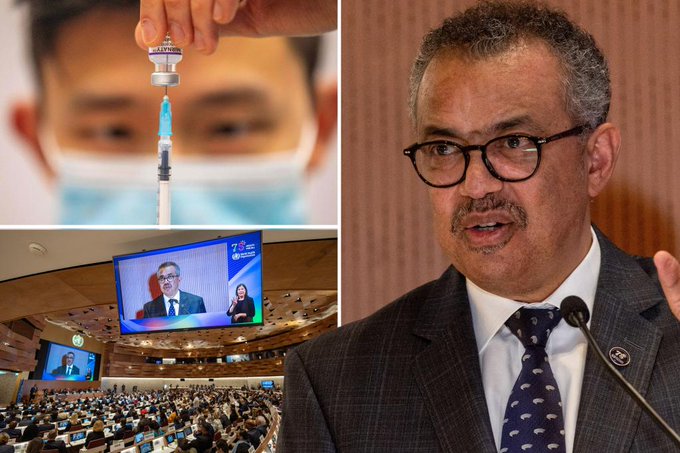 Marc Lallanilla: The next pandemic 'even deadlier' than COVID is coming, warns WHO: "When the next pandemic comes knocking — and it will — we must be ready to answer decisively, collectively and equitably," he added…
Matt Margolis: Just in Time for 2024: WHO Chief Warns of Looming Disease 'Deadlier' Than COVID
Meanwhile, in Oz, #TwitterFiles: Australia's government collusion too…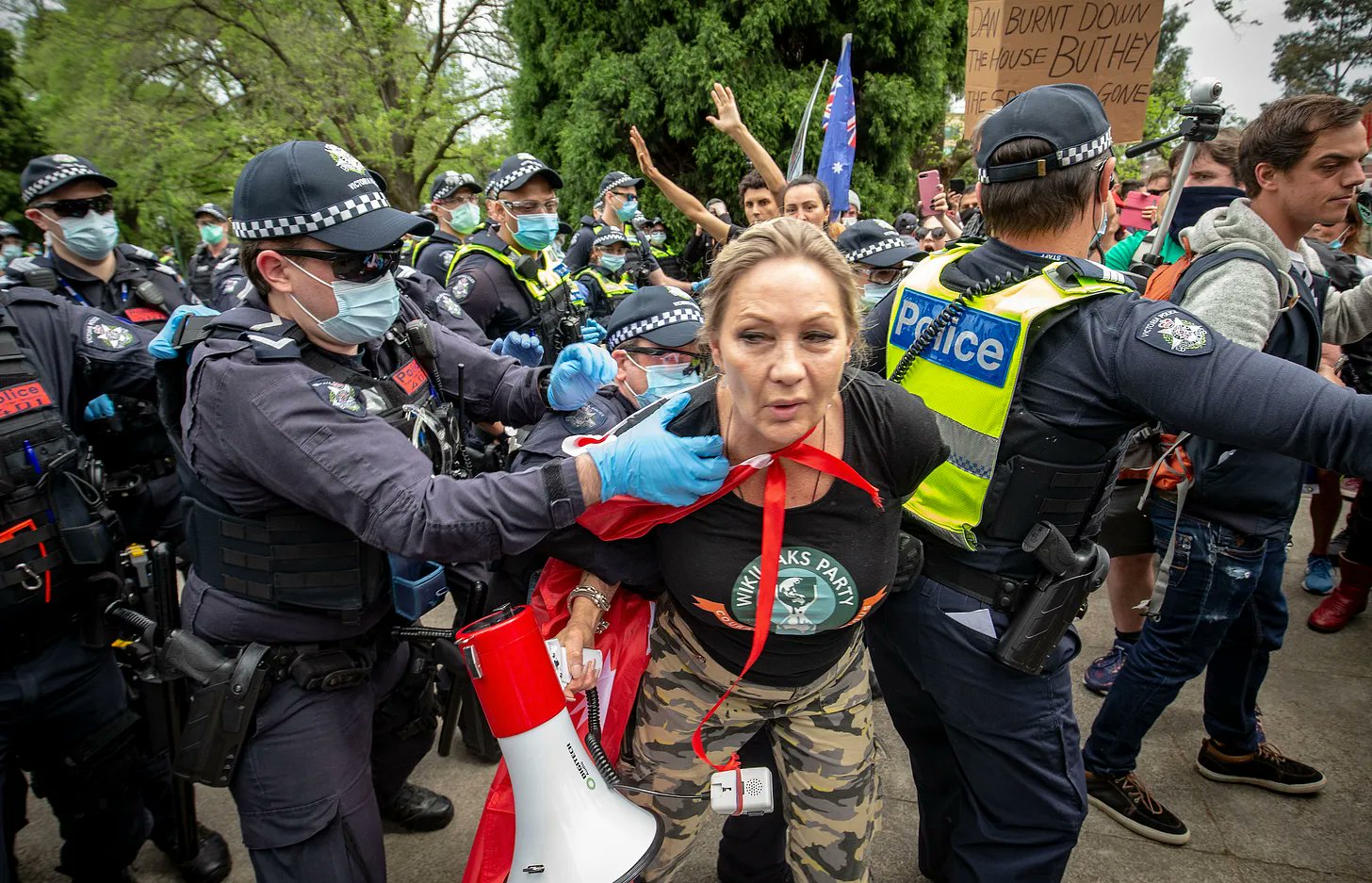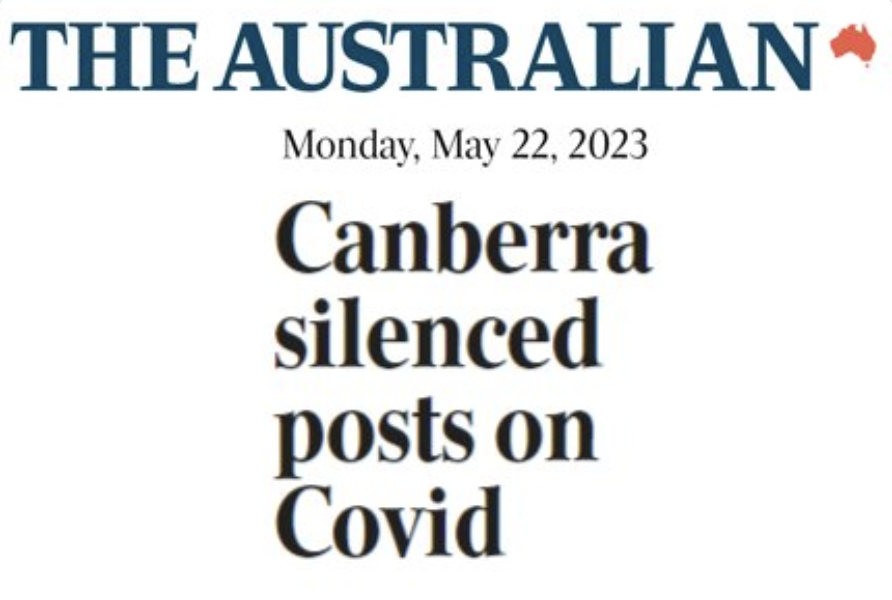 Twitchy: Twitter Files Extra: The Australian government's censorship requests
Meanwhile, here at home…
Lloyd Billingsley: Mask Mandates Unmasked: Congress must end white coat supremacy and make a case for pandemic reparations.
Leslie Eastman: Analysis: Unused COVID Vaccines are Worth Over $2 Billion: Meanwhile, Pfizer and Moderna say work on Covid vaccines is not over, even though the public health emergency has ended.
If we American humans are still capable of critical thinking, logic and reasoning, and seriously curious enough to demand answers to serious questions…
Robert Zimmerman: "The deaths that we saw, I'm afraid, were medical malpractice at best and murder at worst."
The quote in my headline today comes not from some wild-eyed partisan quack who wears a tin-foiled hat and sees comspiraces behind every corner. Instead, it is the considered and educated conclusion of Mike Yeadon, former Pfizer chief scientific officer of allergy and respiratory. His comments sum up the entire Wuhan panic quite concisely, and provide an excellent foundation to today's essay listing the recent research into that panic and the disaster it caused worldwide. As Yeadon added,

"They lied to us about absolutely everything," he said. "They lied to us about the magnitude of the public health emergency which never existed. They lied to us about the necessity of having measures like lockdowns, mass testing, social distancing, masks and it goes on and on."

Nothing Yeadon says contradicts anything that any reasonable and cool-headed individual might have concluded, from day one of the panic. However, the advice of reasonable and cool-headed individuals was the last thing wanted from most governments and health officials worldwide. Nor was most of the general public interested either. Instead, fear ruled, and that fear was then used by a lot of corrupt power-hungry officials to garner more power for themselves, all to the detriment of everyone else.

Nor am I speaking out of turn. I have spent the last three years documenting the foolishness, the failure, and the downright ugliness of the COVID response. Today is simply another update covering the last two months. And sadly, the new data simply reinforces again and again what Yeadon says…
Your student loan debt at work:
"Black Marxist"…
UPDATE: The unhinged pro-abortion professor who vandalized a Students for Life table, Shellyne Rodriguez, holds machete to NY Post reporter's neck and threatens to "chop" him up. https://t.co/DEY4i12Wo4 pic.twitter.com/GwjLDPAnDS

— Charlie Kirk (@charliekirk11) May 23, 2023
So CUNY's Hunter College refused to fire Rodríguez after she trashed a pro-life table. https://t.co/pC4LgF9sD0 However, it said it would not tolerate another incident. How about holding a machete to a reporter's neck and saying that she will chop him up?https://t.co/XZLSJlpLil

— Jonathan Turley (@JonathanTurley) May 23, 2023
Various crimes come to mind but we can start with P.L. 120.14 and menacing in the second degree given the use of deadly weapon. https://t.co/v6DCDL9n62

— Jonathan Turley (@JonathanTurley) May 23, 2023
…Of course we have previously had professors who criminally assaulted pro-life advocates, pleaded guilty, but were not fired and even supported by faculty and students. https://t.co/hGdPCYiIsv

— Jonathan Turley (@JonathanTurley) May 23, 2023
…We also recently discussed an Albany professor who shutdown a pro-life display and resisted arrest. https://t.co/JSLa176WDQ There has been no reported discipline and she was also heralded as a hero.

— Jonathan Turley (@JonathanTurley) May 23, 2023
…Rodríguez describes her work as "depict[ing] spaces and subjects engaged in strategies of survival against erasure and subjugation." I suppose nothing says survival tactics like a machete to the neck of a reporter. https://t.co/A3dHwi1wpa

— Jonathan Turley (@JonathanTurley) May 23, 2023
…It appears that, while trashing a pro-life table was not something Hunter College would fire a professor for doing, holding a machete to the neck of a reporter was considered a tad too much for Hunter College and CUNY. https://t.co/XZLSJlpLil

— Jonathan Turley (@JonathanTurley) May 23, 2023
…So now we just have to figure out if there is anything short of a machete attack that would motivate CUNY to fire a professor in an incident involving pro-life or other dissenting voices on campus.

— Jonathan Turley (@JonathanTurley) May 23, 2023
Reuven Fenton and Emily Crane: Unhinged NYC college professor, Shellyne Rodriguez, who cursed out anti-abortion students holds machete to Post reporter's neck
This pro-abortion radical professor, Shellyne Rodriquez, curses at pro-life students and then vandalizes a @StudentsforLife table. She should be fired immediately. pic.twitter.com/nxwfFl9BpA

— Charlie Kirk (@charliekirk11) May 22, 2023
Funny, she uses the term "violent", huh?
Allie Griffin: NYC college professor, Shellyne Rodriguez, cursed out anti-abortion students tabling at school
Meanwhile…
Brianna Herlihy: LAWSUIT – Michigan State professor forced students to pay $99 for left-wing causes: Money collected from students went to the coffers of a left-leaning organization called The Rebellion Community
Grift and Graft: So, where did all those donated $Ms go:
Crucial to remind that this group was at the core of democrat politicians pushing for and demanding the nation's police departments be defunded and even abolished. And Kamala Harris herself supported funding the bailouts of violent BLM rioters in the nation's big cities, and they returned to the streets to be violent again and again…
Newsweek: Black Lives Matter Risks Going Bankrupt
Hump Day Reads:
Well, she and FDR, Brandon, and that's when Nancy wasn't helping load M2 Mortars on the battlefield.
And then she joined the US Congress to become the most accomplished and richest insider trade legislator in US history…
Tom Tillison: Whoa! Joe Biden says Nancy Pelosi 'helped rescue the economy in the Great Depression'
Governing via the 'fear' of the masses…
This quote was something I heard on a video of an interview with RFK, Jr. the other day. He ain't wrong. And when you think of how all this bullshit has been able to so easily been crammed down our collective throats on everything from COVID to grooming our children on "gender dysphoria/identity" to being called a racist if you dare question anyone of color on anything to actively practicing self-defense/other's-defense (and this indeed includes our police being able to effectively carryout their designated duties) to 'climate change' to the J6 aftermath to STFU and allowing open border illegal aliens to invade our sovereign nation to a litany of other 'conditioning' being actively done to the masses in this country. On this I fully agree with RFK, Jr…
"Fear has the capacity to disable critical thinking." – RFK,Jr. circa spring 2023

"I must not fear. Fear is the mind-killer. Fear is the little-death that brings total obliteration. I will face my fear. I will permit it to pass over me and through me. And when it has gone past I will turn the inner eye to see its path. Where the fear has gone there will be nothing. Only I will remain." – Frank Herbert, "DUNE"

"When government fears the people, there is liberty. When the people fear the government, there is tyranny." – Earliest known attribution to Thomas Jefferson

"If you know the enemy and know yourself, you need not fear the result of a hundred battles. If you know yourself but not the enemy, for every victory gained you will also suffer a defeat. If you know neither the enemy nor yourself, you will succumb in every battle." ― Sun Tzu, "The Art of War"
Deirdre Reilly: Franklin Graham at Christian media convention: Every 'demon from hell' has been 'turned loose' in society: Faith leaders must stand firm in biblical truths and 'preach — don't back up,' said Graham
Evita Duffy-Alfonso: 'America Looks Weak': Long-Serving State Department Official Speaks Out After Pronoun Fiasco: 'We look preoccupied and weak to our adversaries and potential allies.'
That pesky excuse for Marxism's continual failures…
Richard Fernandez: A Dead Cert
It's impossible to evaluate Chomsky without also passing judgment on the Marxist enterprise of which he was a part. The strongest defense for Marxism's record is they "meant well." It's hard to argue that an ideology that killed a hundred million "did well," though they haven't given up. They'll get it right "someday." How could it be otherwise; for in their minds people so intellectually superior just had to be right. The proof of Marxism's worth were the Marxists themselves, and they saw in themselves a kind of QED. Was their excellence not obvious? Or so it seemed to those regarding themselves in the mirror. "We are the people we've been waiting for" is the ultimate self-referential argument, and it's very persuasive…
Roll up your damn sleeves and get to it…
Chad Pergram, Adam Sabes: TAXING SITUATION – IRS commissioner responds to claims of retaliation against Hunter Biden whistleblowers: IRS commissioner denies intervening to retaliate against whistleblowers connected to Hunter Biden complaint.Werfel said the whistleblower's reassignment came at the direction of the DOJ
Margot Cleveland: Here's How House Republicans Could Block Senate Democrats' Efforts To Thwart IRS Whistleblower: Besides outing the partisan gamesmanship of the Senate committee, the whistleblower's attorneys signaled a solution to House Republicans
Total collusion…
Gabe Kaminsky: Top Biden official touted 'misinformation' team-up before school threats memo: The remarks came weeks before the Justice Department issued a scrutinized memo on alleged school board threats.
We know 'why' on all of this…
Julie Kelly: Why Is Everyone Protecting Ray Epps? More than a year into January 6 jury trials, Epps, one of the most prolific Capitol protesters, has not taken the stand.
Margot Cleveland: Merrick Garland's J6 Juries Prove Durham's Point: Conservatives Can't Get A Fair Trial In D.C.: Biased juries and politics, rather than an 'objective view of the law and the facts,' may dictate whether a defendant is convicted or acquitted.
Ace: Tucker Carlson's Frequent Guest and Now Biographer Chadwick Moore: Yes, The Day Tucker Carlson Was Fired, He Was Planning a Monlogue About January 6th and Ray Epps
VIDEO: Dan Bishop Grills FBI Witness on the Durham Report: "Yeah, that's just astonishing. I'm just without words…"
Ben Bartee: Poll: Americans Aren't Buying Russiagate Conspiracy Theory Anymore (Plus Trump Up Seven on Biden)
The Clintons are never over…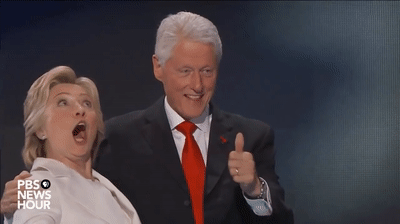 BREAKING: Biden Justice Department formally shut down Clinton Foundation "investigation" in August, 2021. FBI destroyed all evidence. https://t.co/5reEWbB3tB

— Tom Fitton (@TomFitton) May 22, 2023
Yeah, read that last line again. And this…
"All of the evidence obtained during the course of this investigation has been returned or otherwise destroyed," according to the F.B.I.

— Tom Fitton (@TomFitton) May 22, 2023
Andrew C. McCarthy: How Obama officials and the FBI squashed any investigation into Hillary Clinton
Katherine Donlevy: FBI dropped 4 probes into Hillary Clinton, family's non-profit ahead of 2016 election: Durham report
Our FBI/DOJ have gone completely rogue…
Jack Davis: Report: FBI Caught Doctoring, Destroying '338 Items of Evidence' in Jan. 6 Proud Boys Case
MORE:
Biden's wars…
Anders Hagstrom: RED FLAGS – Details emerge about warnings Biden allegedly 'didn't heed' before Afghanistan disaster: Afghanistan document shows Biden 'didn't heed' warnings ahead of withdrawal, Rep. McCaul says. Rep Michael McCaul says the Afghanistan dissenters 'were absolutely right'
Brandon's favorite war…
Eddie Scarry: Ukraine War Fetishist David French Is Now Lecturing You From Kiev: French has looked into the eyes of Ukrainians because he is there in Ukraine and has seen for himself just how important it is that you, the American taxpayer, contribute more.
Meanwhile…
🤦‍♂️ Biden bragged about paying pensions for Ukrainians,

🚨 But we hit the debt limit and his Treasury Secretary is taking "extraordinary measures,"

🔥 Which means Biden is now literally selling investments of US pensions to fund Ukrainian pensions. pic.twitter.com/trbNOq85rD

— Thomas Massie (@RepThomasMassie) February 18, 2023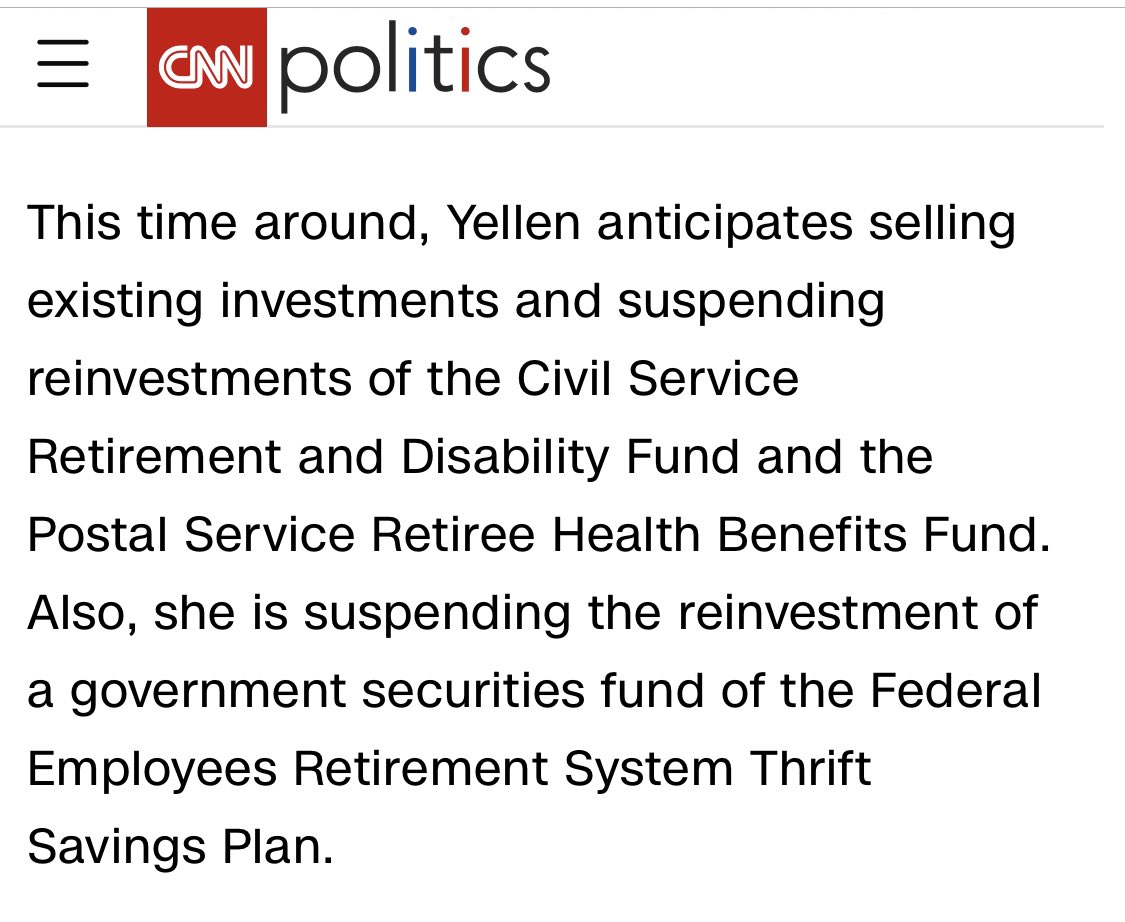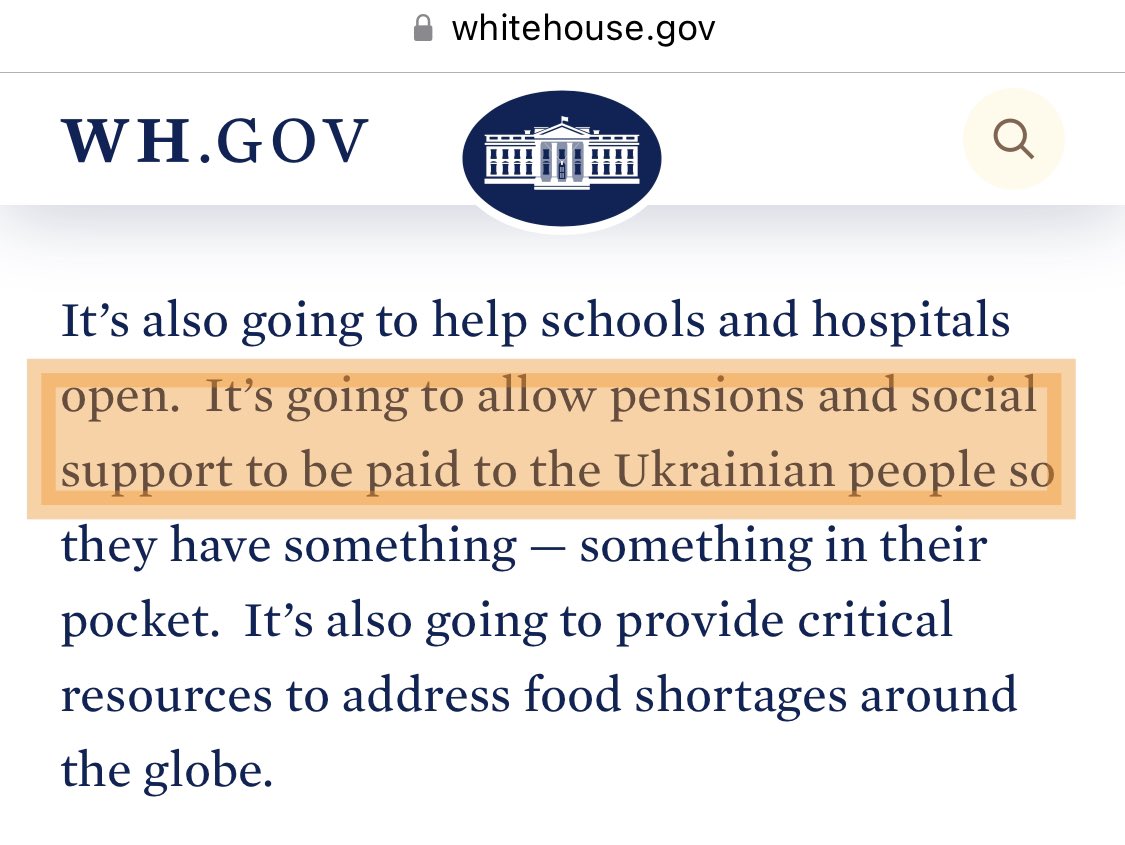 Katie Pavlich: Yes, Americans Are Paying for Pensions in Ukraine
And it already seems to have dropped off the MSM radar…
I can't be the only one suspicious of how the authorities hurriedly displayed this alleged Nazi flag 'evidence' on the public street within short-time for the MSM to spread the 'premise' to the masses. And given the recent revelations of FBI/DOJ "faking" evidence in the Durham Report, we have a damn right to question everything now … AND remind that the "trans" Christian school shooter's manifesto has yet to be released.
Matt Margolis: Suspicion Surrounds White House U-Haul Attack
Time to divest ourselves of destructive "diversity" conditioning…
Kevin Downey, Jr: The Truth About Diversity and the Terrifying Reason the Commie Left Is Pushing It: In other words, it makes us easy targets for global enslavement.
Fahrenheit 2023…
Mark Judge: The liberal hypocrisy over 'banned books': I have a challenge for Politics and Prose, the famous bookstore in Washington, D.C. Sell my book. That's it. That's the challenge.
In Our Stomachs…
Jonathan S. Tobin: Eric Adams' Vegan Totalitarianism Shows Where Global Warming Activism Is Headed: The mayor's plans to cut meat consumption and track New Yorkers' meat and dairy consumption puts AOC's 'Green New Deal' into action.
Sick vampire…
Joseph MacKinnon: Wealthy tech mogul's desperation to remain young has him using his son as a 'blood boy'