Not to worry. He's got atleast a freezer full of the brain freeze stuff, and in his case it doesn't take much.
You'll have/own nothing, and you'll be happy— or else…
Stephen Moore: Honey, Biden Just Shrunk Our Pension: Biden rejected a bipartisan bill that would have required investment fund managers to take politics out of their investment decisions and to stay focused on providing the best return to their clients as much as possible.
Mass shooter is a "trans", blame the gun … and Christians: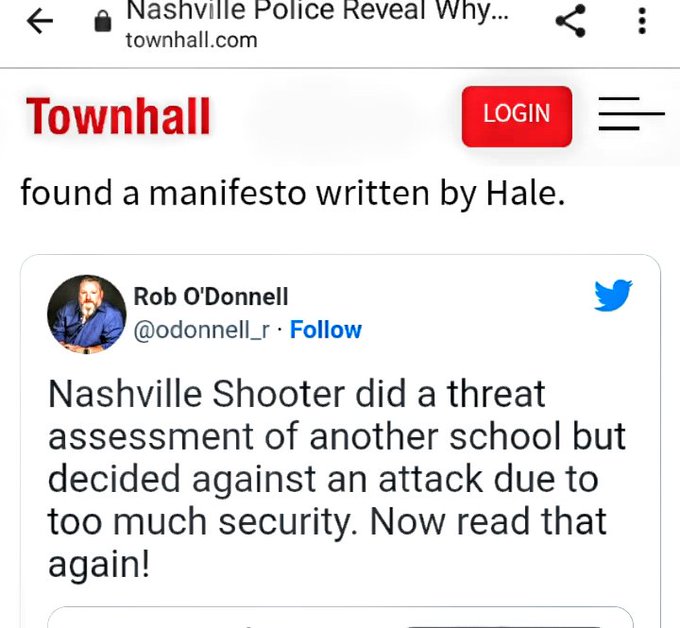 Huge kudos, Colion Noir…
Victoria Taft: Stop Lying: Watch How the Nashville School Killer Case Destroys Left's Myth About Guns
"Hate Crime"? Time to put-up or STFU…
Victor Vana: Biden jokes he doesn't believe Christians were targeted in Nashville shooting if Sen. Hawley does
Police say the Nashville school shooter was transgender. This detail, according to trans people in the state, has doused fuel on an already combustive environment that has led many of them to fear for their safety.

For @NBCOUT with @JoYurcaba https://t.co/2aGaBVnECn

— Matt Lavietes (@mattlavietes) March 28, 2023
Uh-huh sure … Where's the "trans' community publicly condemning this mass slaughter? Your MSM ilk always demand it collectively from everyone else. Not one person killed inside that school was a 'threat' to that community. This premise/narrative is total social construct BS.

— Maggie (@drillanwr) March 29, 2023
Joseph A. Wulfsohn: TONE-DEAF MEDIA – NBC News pummeled for suggesting Tennessee's trans community is in fear due to 'focus' on Nashville shooter
Kendall Tietz: 'HORRENDOUS' COVERAGE – Nashville massacre coverage marked by media's 'subtle smears' against Christianity: Media mockery of prayer, 'subtle smears' against Christianity marks coverage of Nashville massacre. One faith leader said our nation must 'address the moral decay and brokenness plaguing our culture'
'Socially constructing' domestic terrorists…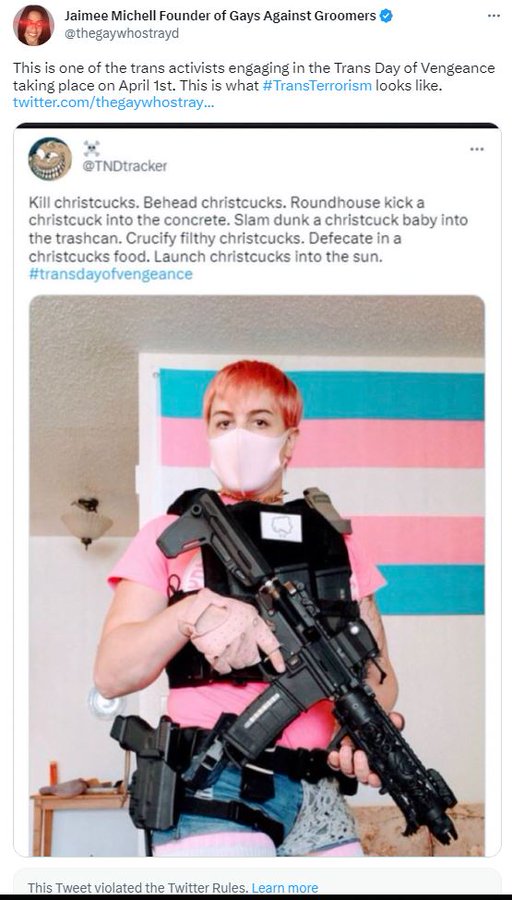 But then, the rabid left knows no bounds in their taste for violence and murder…
This is Governor Katie Hobbs's press secretary, Josselyn Berry, advocating for violence against those who oppose the radical Trans agenda. pic.twitter.com/5dH7aCmi8U

— Charlie Kirk (@charliekirk11) March 29, 2023
Helena Kelly: Press secretary for Arizona Dem Governor Katie Hobbs is slammed for saying she wants to SHOOT transphobes, hours after trans killer massacred three children, two teachers and custodian at Nashville school
Spokeswoman for Arizona Govenor tweeted a gif of a woman holding two handguns alongside the caption: 'Us when we see transphobes'. It came less than 12 hours after transgender shooter Audrey Hale, 28, gunned down six in a Christian school. Republicans have since demanded the press secretary Josselyn Berry is sacked.
28 hours later after a mass shooting at a Christian school, STIILL zero journalists highlighting or quote tweeting this from the Arizona Governor Press Secretary.

Hey @jaketapper? https://t.co/tjung1ujFj

— Stephen L. Miller (@redsteeze) March 29, 2023
The press Secretary for the Governor of Arizona has now protected her tweets. Zero journalists, members of the press are asking why. https://t.co/OM3Wmt0VOk pic.twitter.com/fs5ZPYj6tq

— Stephen L. Miller (@redsteeze) March 29, 2023
Twitchy: Josselyn Berry tweets image threatening gun violence against 'transphobes' AFTER Nashville shooting
James Reynolds: 'Trans Day of Vengeance' WILL go ahead at the Supreme Court despite Nashville school trans shooter killing six in bloody rampage as Marjorie Taylor Greene's Twitter account is suspended over post: Trans Radical Activist Network to hold demonstration outside Supreme Court. Commentators snap back at decision following Nashville school shooting.
Libby Emmons: LGBTQ groups warn of 'serious consequences' if police release trans school shooter's manifesto
If you keep telling mentally ill kids that people disagreeing with them is literal genocide, eventually one of them is going to pick up a weapon.

— Joel Berry (@JoelWBerry) March 27, 2023
Kevin Downey, Jr: Tolerance and Acceptance Were Never Going to Be Enough for the Trans Crowd
And this asshole who students are going into loan debt to take his class…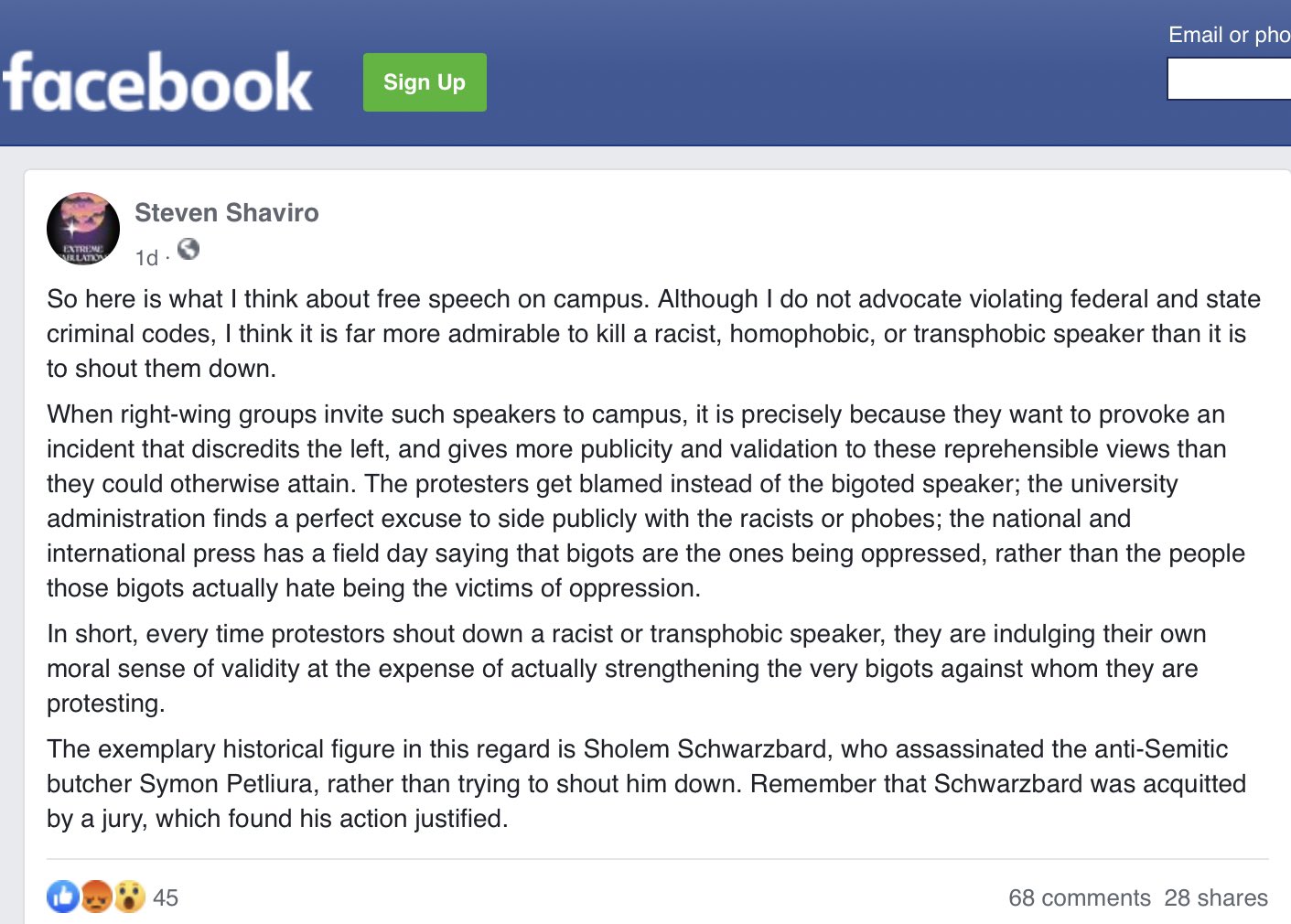 Lorri Wickenhauser: University Professor Suspended, Referred to Police After Reportedly Calling for the Murder of 'Right-Wing' Speakers
THESE TRANS ACTIVISTS SEEM LIKE TEDIOUS BULLIES: Disruptive trans-activists escorted out of Cabot Phillips event by police: Trans-activist students said they were "not interested in conversation" with Cabot Phillips as they protested his speech inside the venue at the University of Pittsburgh.
Meanwhile…
Stephen Kruiser: The Morning Briefing: American Left Grew More Violent While FBI Was Hunting Soccer Moms
Sloppy Joe blows:
"Digital McCarthyism"…
James Bovard: Is Biden, like past presidents, unleashing the IRS on his enemies?
The Brandon administration of deliberate incompetence:
I doubt this lying SOB can define "borders" and "sovereign" either…
Alex Nitzberg: DHS secretary says he would support an assault weapons ban, then fails to deliver a definition of 'assault weapon'
Scott McKay: John Kennedy, Janet Yellen, and the Disastrous Biden Budget: Yellen dares to call this "fiscally sustainable."
Merrick Garland is doing everything possible to intimidate the SCOTUS Conservative Justices.

Impeach Merrick Garland.https://t.co/70sozkGt39

— Joseph D. McBride, Esq. (@McBrideLawNYC) March 29, 2023
Josh Gerstein: Garland looks to hand off security duty for Supreme Court justices: Sen. Katie Britt unveiled training materials showing that marshals were discouraged from arresting protesters.
When the American left will stop at nothing in order to whore themselves to/for China:
James Fanelli and Corinne Ramey: FTX Founder Sam Bankman-Fried Charged With Bribing Chinese Officials: U.S. indictment alleges FTX founder directed payoff to regain access to more than $1 billion in frozen cryptocurrency
Sunny Hostin, one of the idiots on The View, says she has no issue with China keeping Muslims in concentration camps because lots of blacks people are in jail in America. The View is truly the dumbest show in America. pic.twitter.com/QfhMiCttxS

— Clay Travis (@ClayTravis) March 28, 2023
Assigning moral equivalence to the human rights records of the United States and China is more than factually incorrect. It's delusional. https://t.co/2qApJMnXXw

— Mike Lee (@BasedMikeLee) March 29, 2023
I'm pretty sure these hags' willfully asinine inaneness has reached critical mass levels. https://t.co/xNJ1eZVHMt

— Maggie (@drillanwr) March 29, 2023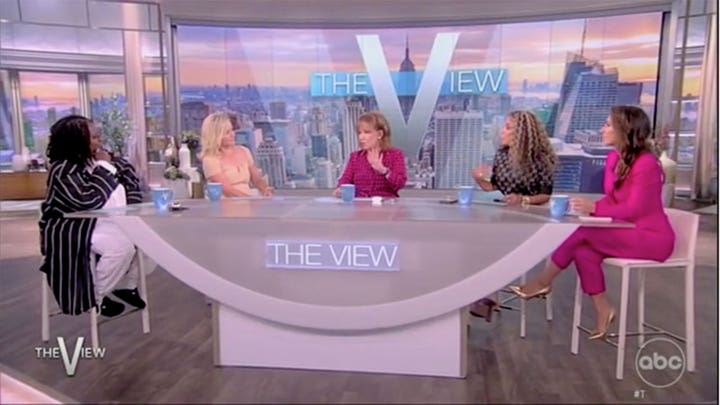 Hannah Panreck: Sunny Hostin suggests Chinese internment of Muslims not as bad as U.S. mass incarceration: 'They're putting a lot more Black people in jail here,' Hostin said … Hostin is an alleged former federal prosecutor and with all her bloviating about her legal intellect should know the damn difference between incarcerating guilty criminals who should know better than to break the law, and the intentional targeted rounding-up of certain people for their religious/cultural beliefs to throw them into extermination internment camps and starve/work them to death.
Meanwhile…
Ben Bartee: Pfizer and Chinese Communist Party Ink Deal in Unholy Union
Betsy McCaughey: China controls your meds — and that should scare you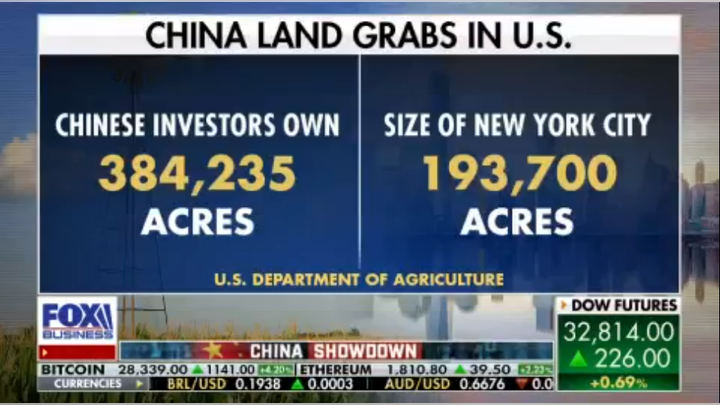 Kayla Bailey: Oklahoma GOP senator sounds alarm over China's farmland purchases: US must 'pay attention': Biden must prove to China that the US is nothing to be 'trifled' with, Sen. Lankford warned
"Hump Day" Reads:
While stridently trying to finally cripple this country's energy independence the people in charge are putting us in danger of throwing our lives back two centuries…
Glenn H. Reynolds: Biden's latest target in his war on appliances: air conditioning units
Mark Golden: Stanford study warns against charging electric cars at home overnight: It found that if rapid EV growth continued with a continued dominance of residential, nighttime charging, peak electricity demand could increase by up to 25% in just over a decade
I&I Ed Board: EVs Are The Yugo Of The 21st Century
Way back in the mid-1980s, communist Yugoslavia exported the Yugo, a compact car that sold for around $4,000. It was so poorly made that bumping into a pole at 5 mph could total it.

Fast forward to today, and a new class of cars has a similar problem. A minor accident can cause a total loss, even if the car's been driven only a few miles. The only difference is that these cars aren't cheap imports from some godforsaken socialist state. These are state-of-art electric vehicles that come with an average sticker price of $55,000…
Daniel Jay Cameron, C. Boyden Gray: This Supreme Court ruling could upend everything about climate change lawsuits: Courts split on whether climate change lawsuits are governed by state or federal law
"Drowning in Lake Me." – Tucker Carlson
Ian Schwartz: Tucker Carlson and Victor Davis Hanson: People Not Wanting Children Is The Most Profound Expression Of Nihilism, Sadness
Bruce Thornton: The 'Woke' Tyranny: Welcome to a substitute religion filling the void created by Christianity's decline.
"The private life is dead … the personal life is dead"…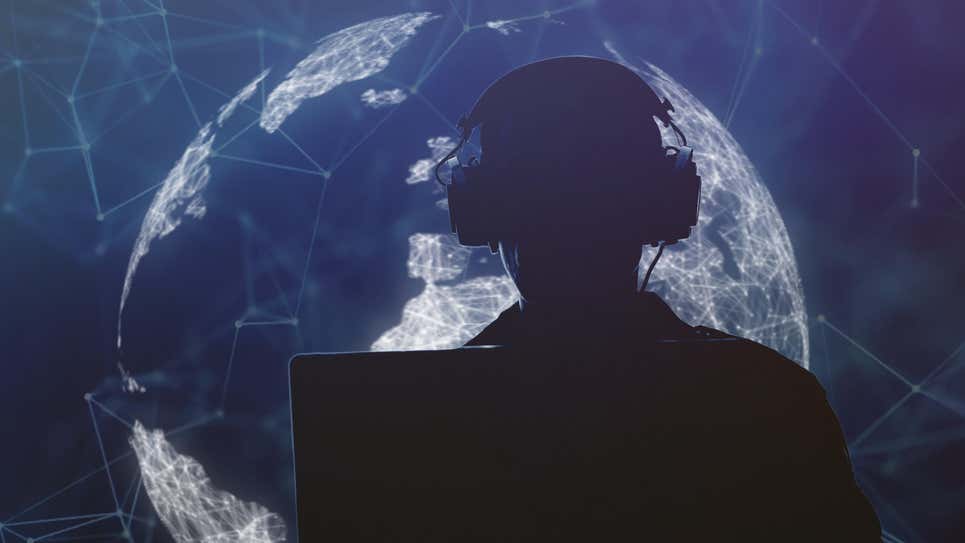 Lucas Ropek: The FBI Has Been Buying Bulk Internet Data from This Florida Company: A data broker that previously sold data-pilfering tools to the U.S. military has received tens of thousands of dollars from the FBI for similar services
John O'Connor: Ukraine and the FBI: Profiles in Corruption: When Trump took office, his enemies were in place and they got him before he could get them.
"Social Justice" is a miscarriage of justice and injustice…
Candace Hathaway: Soros-funded DA's radical policies push prosecutors to resign: No longer 'adequately and ethically protect the rights of victims'
Really REAL "Science" is a bitch…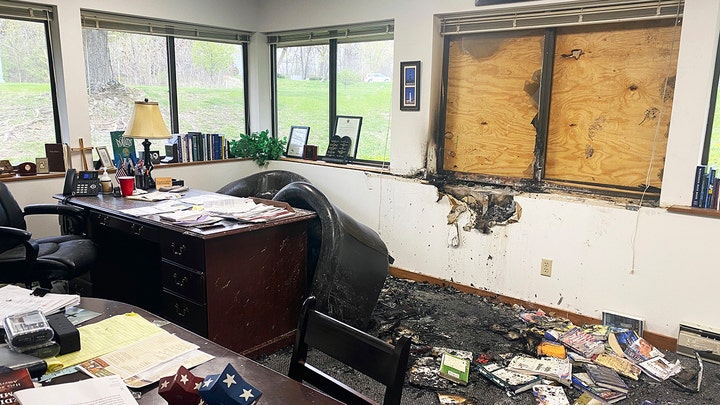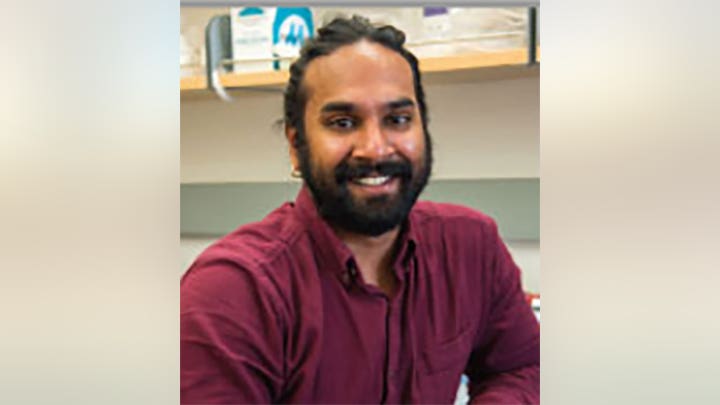 Danielle Wallace: BITING BACK – DNA from half-eaten burrito ties ex-Wisconsin doctoral student to pro-life center firebombing attack: Hridindu Sankar Roychowdhury, charged in an attack on Wisconsin Family Action, was arrested in Boston while trying to flee the country
IS RON JOHNSON THE MOST COMMON-SENSE MAN IN CONGRESS? – You won't have to watch this "American Thought Leaders" interview on Epoch TV with the Wisconsin Republican for very long before that thought will cross your mind.

He's blunt, direct and compelling on all of the major issues of the day. He's also utterly single-minded about getting to the truth about Anthony Fauci and the origin of COVID-19.