It has been eight days since somebody employed inside The Supreme Court deliberately coordinated with the news outlet Politico to leak the rough draft of Justice Samuel Alito's majority opinion on Roe v Wade. Why have we not had a release of the name of this leaker or leakers in over a week? Why?
So much righteousness awesomeness right here…
Marxists try to disrupt Mass at Cathedral of our Lady of the Angels. Security, ushers and parishioners said they were not having it.#cathedral #Catholic pic.twitter.com/HlN8yHxPKL

— Romangod7 (@Romangod7) May 8, 2022
Laurel Duggen: Parishioners Thwart Abortion Activists' Attempt To Derail Mass At LA Cathedral
No. You DO NOT have "the right" to disrupt and defile God's house.
Time for Congress to call a hearing of AG Merrick B. Garland:
Kelly Laco: NO JUSTICE FOR JUSTICES – DOJ taking no action against abortion activists despite law prohibiting protests: DOJ silent on abortion protests at justices' homes despite federal law prohibiting 'pickets' to influence case. There have been no arrests of abortion activists despite federal law prohibiting protests with intent to influence a court case
Charles Creitz: Pro-choice protests at Supreme Court justices' homes breaks federal law: Bill Barr: 18 USC 1503 prohibits 'endeavors to influence, intimidate or impede… officers of [the] court'.
What would happen if conservatives were protesting outside of the homes of the leftwing Supreme Court Justices?

They would all be arrested on the spot since it's against the law. pic.twitter.com/jBeCDn7yzx

— Mandy ✝☕ (@SpringSteps) May 10, 2022
What would happen? January 6… those folks are being threatened with life in prison. Political prisoners. In America. IN AMERICA.

— RAM (@ramespaulus) May 10, 2022
We no longer have the rule of law in America. It's clearly not applied equally. The Justice system is corrupt!

— Mandy ✝☕ (@SpringSteps) May 10, 2022
Bruce Thornton: Attacks on Supreme Court Justices are the Real Assaults on Democracy: What really lies behind the national tantrum on the Left.
… Tuesday and as far as I can tell, the Left has lost on the abortion issue. There are a number of angles to this so let me try and tackle them one by one. First of all, there's the purely legal angle to this. While the leaked ruling is from February and there may be still some time for changes to be made to ruling or even justices to change their vote, by all appearances the likely 5-4 vote means Roe v. Wade will effectively be overturned. There may be a couple of tweaks/carveouts that satisfy Cheap Justice Roberts to Dobbs but it won't affect the outcome.

The reason I'm saying this is that both Justice Alito made it a point in his brilliant opinion, and Justice Thomas verbally opined, that the Court cannot and will not bow to outside pressure or threats in the discharging of its duty. And the words as well as actions from the occupied Oval Office on down to its bought and paid for goon squads in the streets speak volumes.

The communiqué from the Junta is mealy mouth double-talk and gobbledygook. Well, what did you expect from liars, dementia patients and a lying demented stooge president?…
Read the whole thing. As usual for Sefton it's long but detailed and very informative.
Kyle Shideler: Hillary-Endorsed Abortion Group Targeting Churches Is A Front For Revolutionary Communists: The radical Revolutionary Communist Party is behind Rise Up 4 Abortion, the group organizing Mother's Day protests across the country.
The Federalist: Federalist Editor Corrects Pro-Abort's 'Pregnant Person' Talking Point On Air … Disgender women and dehumanize the unborn/pre-born/just-born.
Joseph Klein: Biden Administration Winks at Mob Rule on Abortion: A "Catholic" president believes a woman has an inherent right to "abort a child".
Paula Bolyard: This New Post-Supreme Court Leak Poll Should Terrify Democrats
Tom Treece: SCOTUS leak is nothing more than a lust for power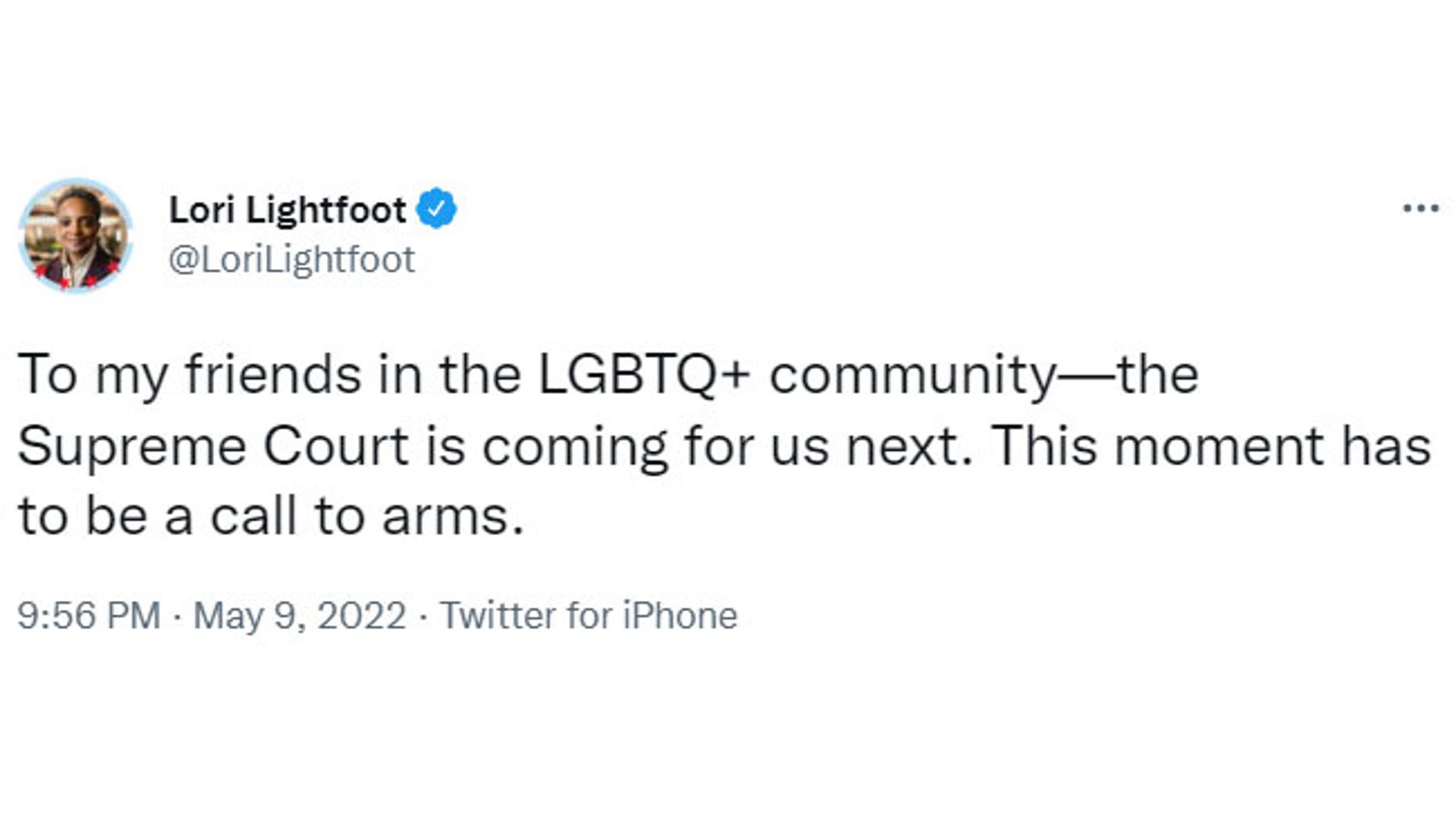 Brandon Gillespie: Critics excoriate Lori Lightfoot for 'call to arms' over Roe v. Wade: 'Incitement to insurrection': 'If this isn't a call to insurrection, what is?' … Do you really need reminding this woman is the mayor of the city with one of the nation's highest murder rates.
In 30 years the Democrats position on abortion has gone from 'Safe, Legal and Rare' to 'Abortion any time up to birth for any reason!!!!!'

— Shay Patrick Cormac (@ShayCormac_1) May 10, 2022
Don't forget California's plan for allowing "abortion" within the first month of birth, which would be outright murder of a month-old infant.
Terence P. Jeffrey: CDC: D.C. Had Nation's Highest Reported Ratio of Abortions to Live Births
Sweet Jesus…
YELLEN: BARRING ABORTION MEANS CHILDREN WILL GROW UP IN POVERTY

— zerohedge (@zerohedge) May 10, 2022
Don't you love it, the eugenics crowd A. Never went away,
B. They're not shy about openly saying it, eradicating the poor through extermination is their goal.

basically simpatico with Hitler's final solution, oh he was a progressive too don't ya know.

— 🌎 Shawn Taylor (@staylormusic) May 10, 2022
Ivana Saric: Janet Yellen: Eliminating abortion rights would have "very damaging" effect on economy
The big picture: Sen. Bob Menendez (D-N.J.) asked Yellen about the economic consequences for women if the Supreme Court's draft ruling were to be realized.

"I believe that eliminating the right of women to make decisions about when and whether to have children would have very damaging effects on the economy and would set women back decades."
Um, obviously Janet is deliberately deflecting from the Bidenflation wrecked economy & poverty already 'effecting women and their children' https://t.co/jzuIRlNUT1

— Maggie (@drillanwr) May 10, 2022
Fortune: Inflation is hurting women at the grocery store. Some are eating less in order to feed their families.
The Three-Legged Conspiracy Stools (i.e., Turds):
Alan Cullison and Aruna Viswanatha @ WSJ: Three Friends Chatting: How the Steele Dossier Was Created: Report that rattled the political world often echoed talk among three acquaintances, including the main investigator and an old schoolmate
VIDEO: Will Cain: The problem with the controversial Steele dossier
Dumbing-Down and Grooming Our Kids: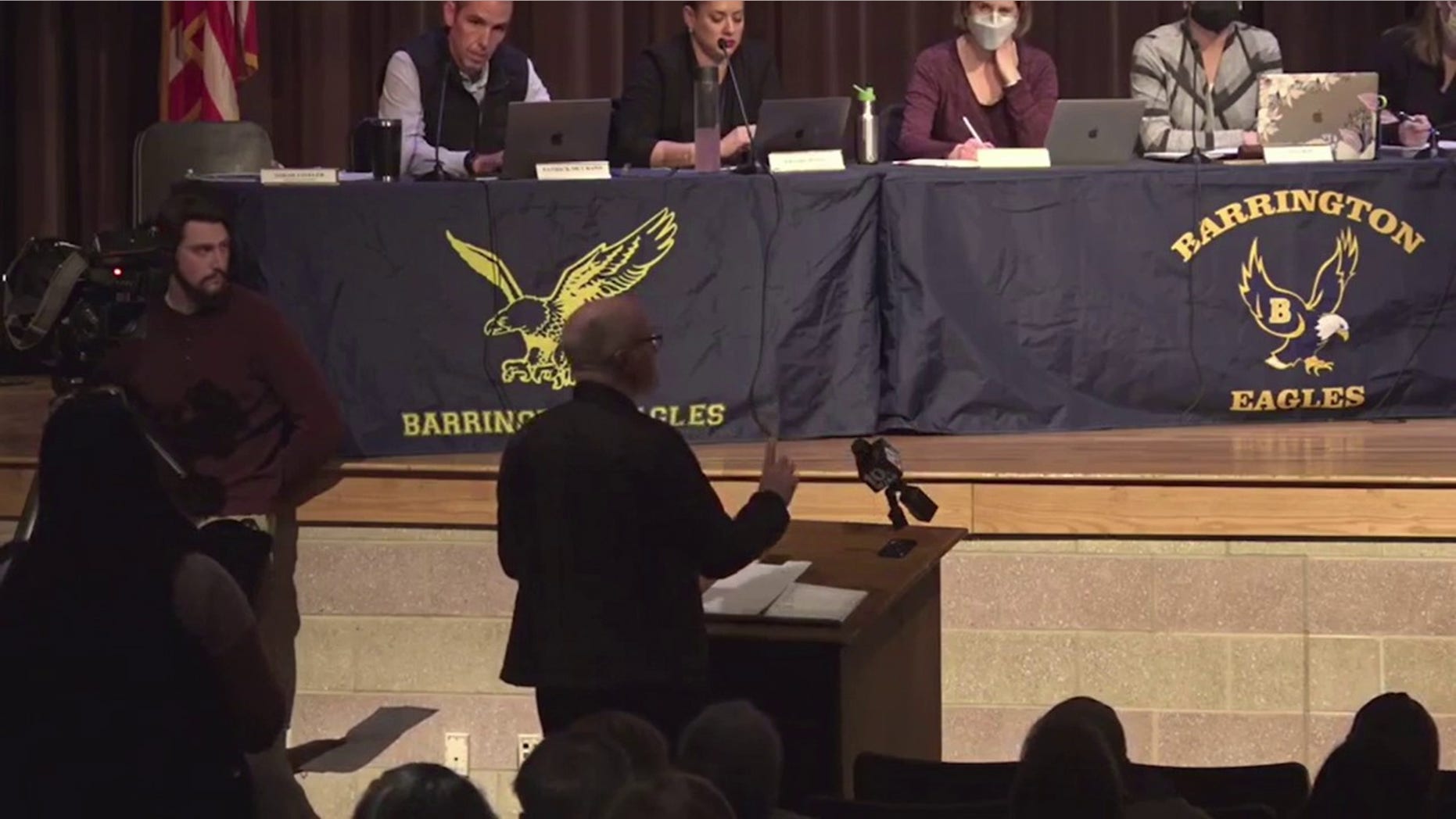 Hannah Grossman: FAILING GRADE – Rhode Island parents enraged at school board for removing honors classes in 'equity obsession' push. A local resident, said, 'Equity' has become an unhealthy obsession, and parents are seeing the impact.' … W/VIDEO
Darik: Rhode Island parents angry with school board for removing honors classes in 'equity obsession'
Paula Bolyard: GROOMER ALERT: Now They're Trying to Get to Your Kids Through Their Breakfast Cereal
California Governor, @GavinNewsom wants to remove ICAC (Internet Crimes Against Children) task force funding for 2022/2023. We have an epidemic of online child sexual exploitation and he wants to remove the funds necessary to rescue children. Please make the call. 🚨916-445-2841.

— Landon Starbuck (@LandonStarbuck) May 10, 2022
MORE Tone Deafness, Sour Notes and Missteps:
You can't find baby formula in the United States right now but Congress is voting today to send $40 billion to Ukraine. Let's put America First for a change.

— Donald Trump Jr. (@DonaldJTrumpJr) May 10, 2022
Robby Soave: The U.S. Baby Formula Shortage Is the FDA's Fault: Plus: Trusting the science is now an explicitly partisan issue, stocks are still plummeting, and more…
"Just wondering if you guys are planning on taking any steps to help remedy" the nationwide baby formula shortage?

Jen Psaki: Uh……… pic.twitter.com/Iv6kelwVpG

— RNC Research (@RNCResearch) May 9, 2022
Stock market crashing, inflation, gas prices at record highs, food shortages, baby formula shortages, a total catastrophe but the Dems think they can save themselves by promising to kill more babies and castrate more kids. A red tsunami is coming unlike anything we've ever seen.

— Best Selling Biologist Matt Walsh (@MattWalshBlog) May 10, 2022
If Biden wanted to reverse inflation, he would:

— Have the Fed stop printing $
— Have the Fed dramatically raise interest rates
— Dramatically cut federal spending

None of these things results in more power for Washington, so he will instead attack Republicans.

— Tom Elliott (@tomselliott) May 10, 2022
And pull back rules making oil companies slow down. (Interest rates won't help that investment though)

— Sandy 〽️ (@RightGlockMom) May 10, 2022
In a sane administration, yeah. But this is the deliberate Thaler and Sunstein "nudge" plan for us from this administration. Watch out when it turns to the 'shove'.

— Maggie (@drillanwr) May 10, 2022
Twitchy: 'DUH! We ALL predicted it': Little Red Lying Hood Jen Psaki says NO one could have predicted #Bidenflation would 'soar to record highs'
Dominic Pino: How Government Made the Baby-Formula Shortage Worse: Because of expanded government subsidies for baby formula, price signals don't work as they should.
Biden's core campaign promise of "normalcy" apparently means an imminent recession, record high inflation, severe baby formula shortages, and mobs threatening Supreme Court justices at their homes

— Buck Sexton (@BuckSexton) May 9, 2022
Twitchy: Joe Biden's all set to reveal his bold new plan to fight inflation, which is … blaming Republicans for having no plan to fight inflation
Old School…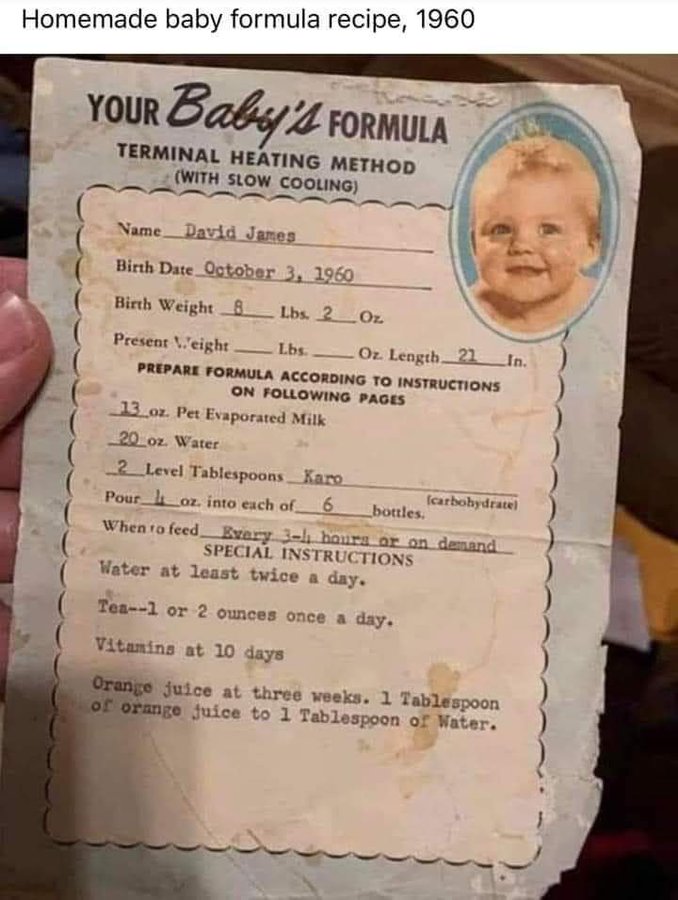 The government is breathlessly warning parents not to make their own formula for their babies amid this acute shortage. The fact is, there were generations that used the above doctor instructed formulations. This would work for average babies without special digestive and nutritional needs. It didn't kill me and my sisters. Doctors can prescribe additional liquid vitamin drops. This is a short term (hopefully) substitute for parents, of course. Parents need to pay special attention to strict hygienic practices (always should be even with bought formula) such as sterilization of all objects like bottles, nipples, nipple rings, etc. And the use of boiled (and cooled) water. People are suggesting goat's milk (and I understand that can be found 'canned' in stores) and organic sugar or agave … NEVER honey for babies until toddlerhood. But all of this needs to be researched and discussed with your baby's doctor. First and always have these discussions with your baby's doctor before you do anything.
Brooke Singman: Biden to outline 'plan to tackle inflation,' draw contrast between his administration and 'ultra-MAGA' plans
Katherine Doyle: White House press secretary Jen Psaki says Biden can talk bipartisanship and 'ultra-MAGA' at same time
Tyler O'Neil: Gas prices hit new all-time high as EU considers blocking Russian oil, Biden keeps restrictions: New record-high oil price comes as the European Union edges toward oil sanctions on Russia
Tristan Justice: Diesel Prices Hit All-Time High, Meaning Soon So Will The Costs Of Everything You Buy: Diesel prices reached a nationwide average of $5.54 per gallon on Monday, setting a new all-time record, according to AAA.
Hank Berrien: New WH Press Secretary Karine Jean-Pierre Kept Alleging Trump/Russia Collusion Conspiracy, Called Trump Racist
Michael Waller: The Biden Administration's 'Disinformation' Board Is A Tool Straight From Soviet Russia's KGB: The Biden administration re-defined disinformation, sanitized the term of its KGB roots, and expanded the definition by applying the label to Americans.
Thomas Hogan: The Five Worst Prosecutors in America: Inexperienced, contemptuous of the law, more concerned with criminal defendants than crime victims, and arrogant in the extreme: a wrecking crew for American cities.
Twitchy: Karine Jean-Pierre may be an election truther, but Politico is focused like a laser on the *real* story here
"Conservatives and Republicans are resurfacing old tweets by Jean-Pierre, including one in which she claims the 2016 presidential election was "stolen" and that Republicans "stole" the 2018 Georgia gubernatorial election from STACEY ABRAMS" – @politicohttps://t.co/lNInyBsnJo

— Eric Cunningham 🇺🇦 (@decunningham2) May 10, 2022
So they're doing journalist's jobs for them?

— Dr. Jackson Brown, Ph.D (@DrJacksonBrown) May 10, 2022
"Conservatives and Republicans are resurfacing…", typical media framing. If it were a Republican's embarrassing tweets, it would be simply "Controversial tweets by X are resurfacing…"

— Stars and Stripes (@StarznStrypz) May 10, 2022
Or high school yearbooks.

— Maggie (@drillanwr) May 10, 2022
Chris Bray: Belieeeeeeeeeve: the power of mask compels you
NEW – EU Commission is expected to publish the draft law on "chat control" tomorrow. Lawmakers seek AI-based checks of all message content & images directly on users' devices.

Critics say this is an attack on the digital privacy of correspondence and leads to mass surveillance.

— Disclose.tv (@disclosetv) May 10, 2022