Were this a movie the majority of us would be leaving the theater and demanding our money back— no, a f**king recount of every f**king vote from November 2020.
WSJ: President Costanza Takes On Inflation: Biden lays out his plan on prices, but he'd do better if he did the opposite.
President Biden on Tuesday tried to get ahead of Wednesday's April inflation report with a speech rehashing his well-worn proposals to reduce prices: Boost subsidies, raise taxes, and increase regulation. He should take Jerry Seinfeld's advice to George Costanza and do the opposite of his every policy instinct.

The President again called on Congress to pass his Build Back Better, er, sorry, "Building a Better America" plan including more subsidies for green energy, electric cars, child care, housing and more. He also doubled down on his proposed billionaire's tax—i.e., unconstitutional wealth tax—and Medicare drug price controls.

Mr. Biden again blamed inflation on the pandemic and Vladimir Putin, omitting that Democrats poured kerosene on the accelerating economic recovery last March with their $1.9 trillion spending bill. Inflation was already at 7.9% when Mr. Putin invaded Ukraine (see the nearby chart). At the same time, their policies are hampering the supply side of the economy in myriad and interconnecting ways…

What the country needs is more investment to boost the supply side of the economy, which will increase worker productivity, real wages and living standards. Mr. Biden's plan to hammer businesses and investors with increased taxes and regulation will do the opposite.

In his speech he again lobbied for Medicare to negotiate drug prices—i.e., price caps—but this will create more pharmaceutical market distortions and suppress investment in innovation. By the way, prescription drug prices have risen a mere 2.2% in the last year. Thank competition for that, not government.

As White House aides whispered to friendly media on Monday, Mr. Biden's Tuesday speech was really less about inflation and more about setting up the fall campaign against Republicans. He claimed the GOP has no plan for inflation, as if Democrats don't run Congress and the White House…
Read the whole thing.
Yeah, it's starting to feel like we're living in a Seinfeld episode on a replay-loop … Or The Twilight Zone or The Outer Limits or Groundhog Day or—
'Don't Underestimate Joe's Ability to F— Things Up' – Obama
"He's been wrong on nearly every major foreign policy and national security issue over the past 4 decades." – Fmr Defense Sec. Robert Gates
Joe Hoft: Biden's Foreign Policy Is "Reverse American Exceptionalism" When It Comes to Dealing with Iran
Adam Kredo: Congress Investigates Biden Admin for Granting Visa to Iranian Ally of Terror Leader Soleimani
Brandon's Boogeymen: Blames Bats, Vlad, and "Ultra-MAGA" for His Skyrocketing Bidenflation:
Megan Henney: Inflation soars 8.3% in April, hovering near 40-year high: Economists expected inflation to show that prices surged 8.1% in April
Gabriel Hays: Biden blasted for 'lying', 'gaslighting' speech blaming inflation on pandemic and Putin: 'Joe Biden will blame anyone and anything for inflation'
Haisten Willis: Biden invents 'ultra-MAGA' as Trump substitute
VIDEO: Sen. Rick Scott hits back after Biden slams 'ultra-MAGA agenda'
Twitchy: Elizabeth Warren hopes you're stupid enough to believe that inflation's happening because 'giant corporations are price gouging & reaping record profits'
VIDEO: West Virginia coal miner: 'Voting against the MAGA agenda helped get us where we are'
Megan Henney: HEAT IS ON – Economists have one burning question ahead of inflation data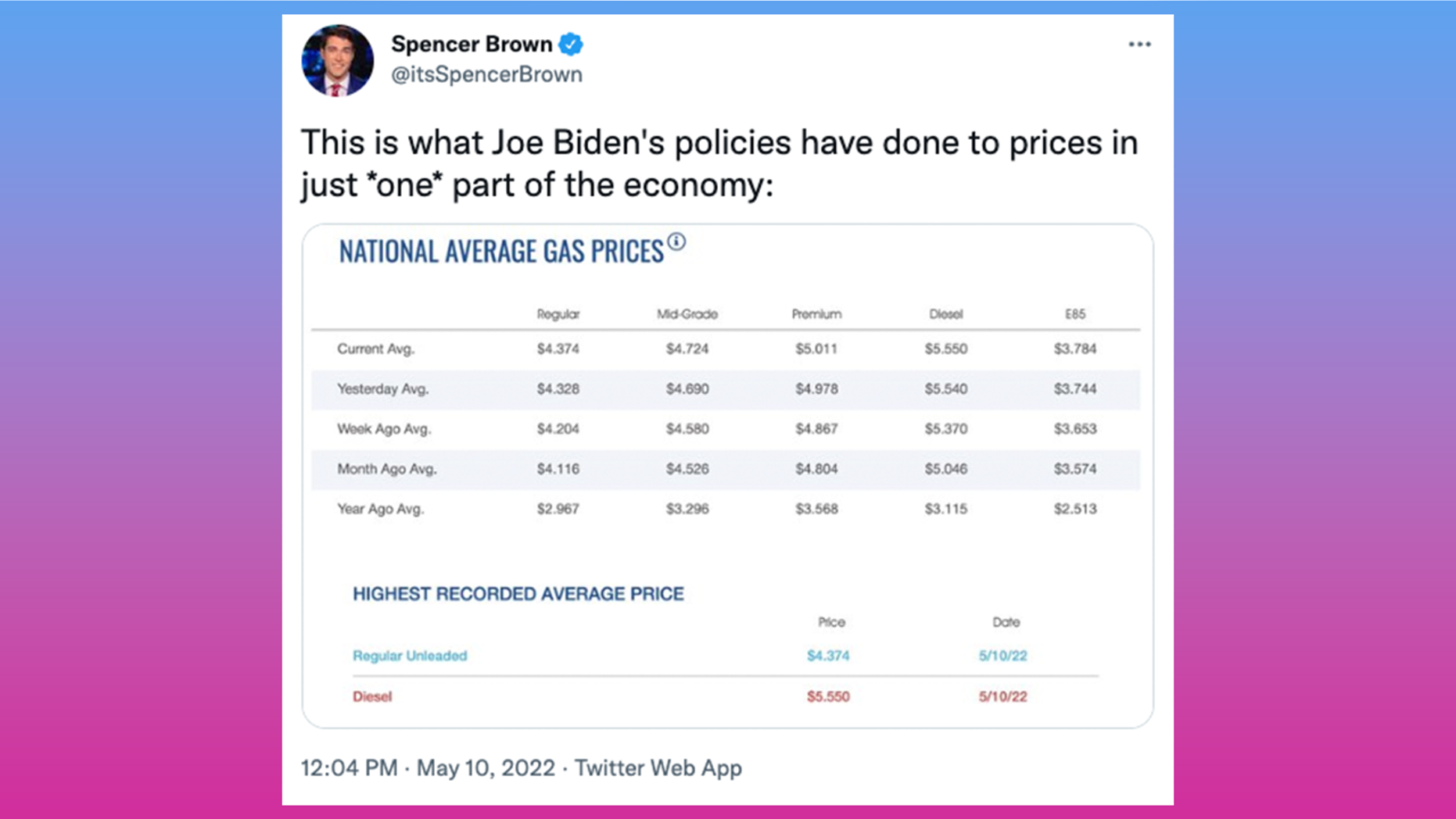 VIDEO: Biden blames wealthiest Americans for inflation, price gouging – Former D.C. Democratic Party Chairman Scott Bolden and Gianno Caldwell weigh in after Biden's speech on America's inflation problem.
Jim Hoft: Outrageous: Biden Lies and Says He Brought Down the Deficit in 2021 After Adding $3 TRILLION in New Debt (VIDEO)
Jim Hoft: Bidenomics: Gas Prices Reach ANOTHER All-Time High as Congress Votes to Send $40 Billion to Ukraine and Baby Formula Shortage Worsens
Jon Michael Raasch , Isabelle McDonnell: Residents from Biden's home state sound off on gas prices as inflation rages on: Biden will have 'similar legacy as Jimmy Carter,' one Delaware resident said … Regular/high-test vehicle gas formulations at the pump are bad enough, but have you seen the price of diesel? You know, that other formulation that fuels farming equipment, truckers, and lots of other production and supply chain machinery used to get our foods and other products from seed/start to market.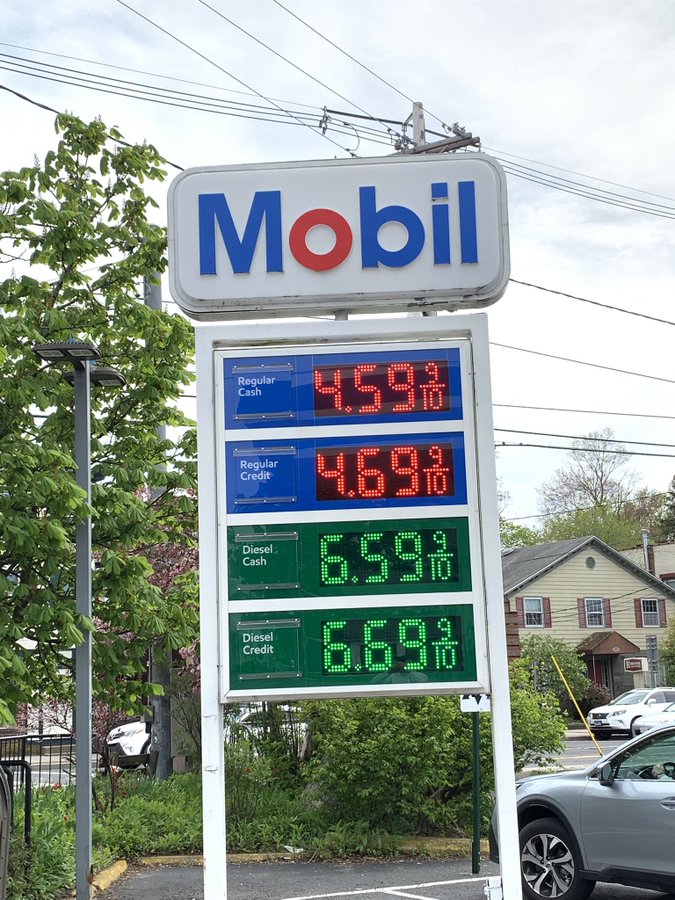 (NY)
Ag-Web: Diesel Prices Just Hit a New Record High, Here's Why a Diesel Shortage May Be Next
We are looking at a nightmare in terms of global diesel shortage that will shock people starting June.

Diesel inventory on the east coast is 18 million (About 3 days demand) as of today, we will run down to sub 10 million. 🚨

This is WAY below historic inventory levels pic.twitter.com/QquIeio8VF

— Wall Street Silver (@WallStreetSilv) May 8, 2022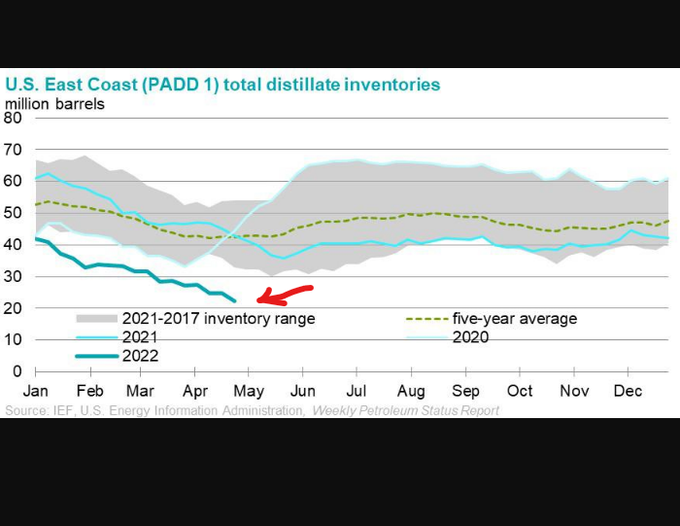 VIDEO: Economist: This is a really, really dangerous time for the American economy
VIDEO: Sean Hannity: Allow me to translate for Joe; There's no plan to curb inflation
Kristen Altus: Electric grid operators warn of potential summer blackouts: Coal plant closures must 'completely' stop as nationwide summer blackouts loom, energy advocate says
Corine Gatti-Santillo: Maryland mom of 4 kids, including 10-month-old twins, is desperate for baby formula: Mom Kayla Zurenko told Fox News Digital of today's baby formula shortage, 'This has GOT to be addressed!'
VIDEO: Parents nationwide searching for baby formula amid massive shortages
Andrea Widburg: Sri Lanka shows what happens when we follow radical environmentalist principles
My God … I hope I can find this morning's Fox & Friends video of Charles Payne angrily responding to Janet Yellen's disgusting and hypocritically outrageous (and racist) economic warning about abortion that flies in the face of the twisted reality of what's actually going on. I'll post an UPDATE w/VIDEO here 'if' I come across it… KUDOS, Charles! Meanwhile, here's my other 'spirit animal' Maria Bartiromo firing back at her…
VIDEO: Maria Bartiromo responds to Sec. Yellen: 'Abortions are not good for the economy' – Treasury Secretary Janet Yellen's assertions that abortions are good for the economy and the $40 billion Ukrainian aid bill that passed the House.
UPDATE: MUST SEE:
If you click on the link in this guy's Twitter tweet the Fox and Friends video clip of Charles Payne will come up…
Usually calm Charles Payne gets fired up on #FoxAndFriends! And he's spot on! pic.twitter.com/QCkpxsK7xJ

— Dan Gerlach (@dan_in_pa79) May 11, 2022
THANKS!!! I've been searching for this video. I wish FNC would choose Payne's clips. He's a Truth Monster.

— Maggie (@drillanwr) May 11, 2022
Sen. Tim Scott had a face-to-face opportunity with the racist nincompoop Yellen to tell her off…
Tim Hains: Tim Scott: Abortion Helps The Labor Participation Rate, But "As A Guy Raised By A Black Woman In Abject Poverty, I Am Thankful To Be Here"
The American Dream is one of hope and opportunity. We should be having conversations about economic policies that ensure everyone—including single moms and their kids—have access to that dream. Sec. Yellen's comments today don't meet that mark. pic.twitter.com/DqumCuggHs

— Tim Scott (@SenatorTimScott) May 10, 2022
Meanwhile…
BREAKING: House approves $40 Billion in additional aid to Ukraine; bill heads to Senate

— Breaking911 (@Breaking911) May 11, 2022
Not a single Democrat in the House has any objection to dumping another $40 billion of untraceable high-grade weaponry into Ukraine — another blank check for continued US military escalation. Every one of them just voted for it, no questions asked

— Michael Tracey (@mtracey) May 11, 2022
Good thing we aren't in the middle of the worst inflation in 40 years https://t.co/s4gAaVSBCX

— Buck Sexton (@BuckSexton) May 11, 2022
30 Trillion in debt…record inflation…keep on printing that money boys!

— I identify as "The Science" (@janon1234) May 11, 2022
It's been wild to watch any remaining vestige of anti-war sentiment be 100% vanquished from the Democratic Party. This vote really seals the deal

— Michael Tracey (@mtracey) May 11, 2022
VIDEO: Rep. Jim Jordan: Everything costs more for families. What do Americans think of Dems sending $40 billion in aid to Ukraine?
It's So Damn Good to be the Drug-Fueled, Naked, Non-Registered Foreign Agent Son of the Demented Crap-Midas Naked Emperor: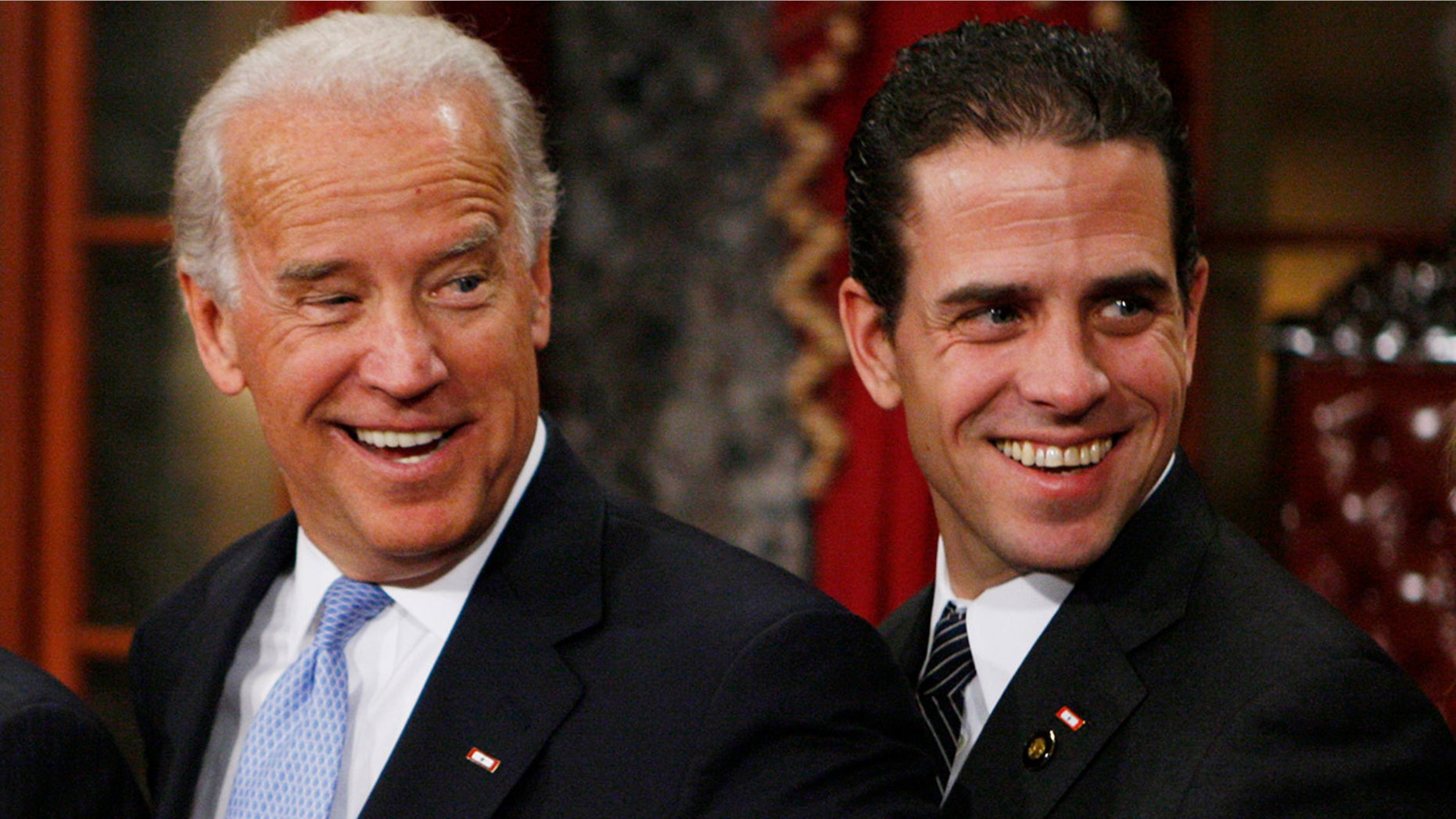 Daniel Chaitin: Hunter Biden and DOJ could reach settlement for 'significant fine': Report
Brooke Singman: Hunter Biden investigation: Grassley, Johnson demand answers on possible recusal of DOJ, Delaware officialsSenators slammed DOJ for casting 'cloud' of 'serious suspicion' over the probe
Geoffrey Dickens @ MRC/NB (4/18/22): CENSORED: How ABC, CBS, NBC Suppressed the Hunter Biden Laptop Scandal
The Professional Rage Actors: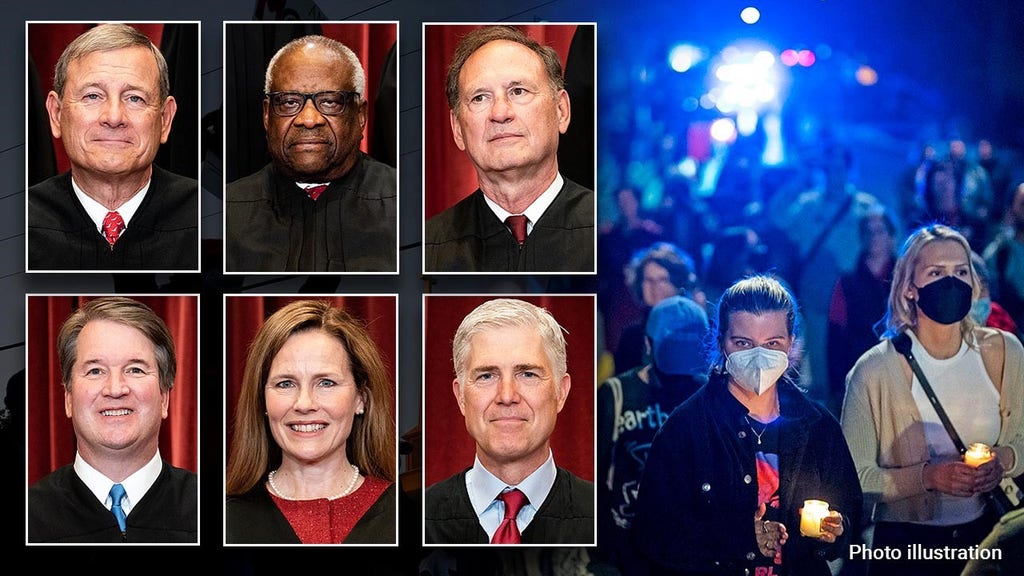 Peter Hasson: SUPREME PROTESTS – Pro-choice group to target all 6 GOP-appointed SCOTUS justices' homes for 'Walk-by Wednesday' protests: Ruth Sent Us has ramped up protests against conservative Supreme Court justices
Andrew C. McCarthy: Biden encourages people to violate the law by protesting at justices' homes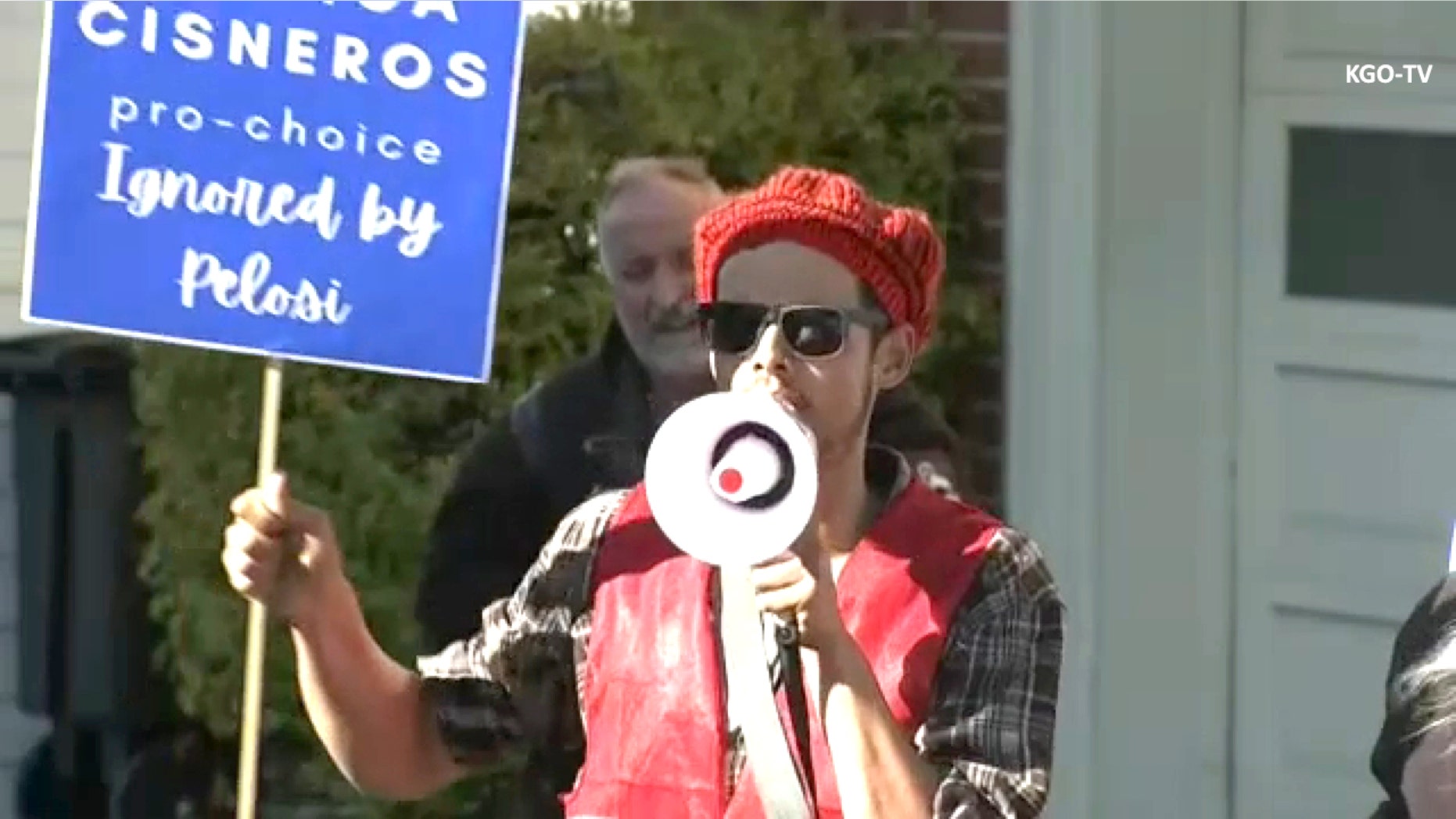 Tyler O'Neil: 'DEMS 'COMPLICIT' – Pro-choice protesters turn tables on Pelosi after she urges them to 'mobilize', picket Pelosi's house, claim Democrats are 'complicit' in potential overhaul of Roe v. Wade: The pro-choice protesters accused Pelosi of being 'complicit' in the reversal of Roe v. Wade, mentioning the Democrats' supermajority under Obama
Brie Stimson: Susan Collins calls police over pro-choice message left outside home after past violent threats
Callie Patteson: DOJ, AG silent on possibly illegal abortion protests at SCOTUS homes
Monica Showalter: The slimy hand of Soros emerges in abortion protest outrages
Houston Keene: Dem-backed bill would force Christian doctors to perform abortions against religious beliefs, advocates warn: Democrats are making another push for the Protecting Women's Health Act
LATimes: Letters to the Editor: 'Human life begins at conception' is a religious belief, not a fact … Yes, because they are kitties, ponies and puppies until these vampires decide they're human.
MORE:
Nihal Krishan: Conservatives question true motives of Biden's DHS disinformation board
NEW – Biden's new "disinformation" czar wants "trustworthy verified people" like her to be able to "add context" to other people's tweets.pic.twitter.com/V4mLNsB5HV

— Disclose.tv (@disclosetv) May 10, 2022
Robert Spencer: At Last We're Getting Some (Chilling) Hints About What the Disinformation Chief Wants to Do
Robert Spencer: FDA Commissioner Claims 'Misinformation' Is Now America's Leading Cause Of Death
Matt Margolis: Looks Like Facebook Is Fact-Checking Pro-Life Memes Now
Don't dare think the 2022 midterms are going to be an easy ride to victory and GOP majorities, folks, even if 100% were voting against every democrat up and down ballot in every state across the nation…
The #2000Mules movie presents serious evidence of voter fraud that must be followed up by law enforcement.

— Tom Fitton (@TomFitton) May 11, 2022
That's fine, but WHO is going to do it? Nominations?

Isn't it odd that there has been no Republican representative who has demanded law enforcement respond?

— James (@realMUGrad) May 11, 2022
Misty Severi: Box of mail-in ballots found on LA sidewalk
D. Parker: Why aren't we allowed to question the 2020 election?
Do you find it strange that we do not dare challenge the prevailing narrative of the 'democratic' party of projection and the nation's socialist media? Especially since questioning electoral integrity is a cottage industry for themselves whenever they lose.

Why does this matter? Consider it from another point of view – why is it so important to the nation's socialist media and the anti-liberty left? (But, we repeat ourselves.) Why have they obsessed about this for months, viciously attacking anyone who brought up the suspiciously-termed 'Big Lie'?

Could it be they obsess over this because they are hoping for a repeat performance? In military terms, this is known as 'preparing the battlefield.' The Biden Regime already issued a dire warning for the fall, with this key line that shows this is all smoke and mirrors…
SHOT:
AFP: Elon Musk says he would lift Twitter ban on Trump
CHASER:
Lee Brown: Jack Dorsey now agrees that Trump should never have been banned from Twitter
VOMIT:
Kevin Daley: The Decline of a Democratic (and Clinton) Superlawyer: Marc Elias, the left's go-to attack dog, is laughed out of court, accused of lying to the special counsel, and on the losing end of several voting-rights cases
Repeat…
SHOT:
There has been a chilling rise in Antisemitism across our state and country.

We know what happens when antisemitism is met with silence. And yet our governor says nothing.

— Nikki Fried (@NikkiFried) May 9, 2022
Twitchy: Nikki Fried decides she doesn't need any evidence to suggest that Ron DeSantis is antisemitic or soft on antisemitism
CHASER:
Andrea Widburg: A Lufthansa flight crew bans all Jews from boarding one of its flights
When Lufthansa, Germany's flag carrier airline, left New York for Frankfurt, most, but by no means all, of its passengers were Jews, with about 80% of them being Hasidic Jews bound for Budapest. Because some of the Hasidic passengers apparently refused to wear their masks, once the plane arrived in Frankfurt, Lufthansa banned all but two Jews (men whose yarmelkes were hidden under baseball caps) from boarding their flight to Hungary. This openly antisemitic conduct was bad under any circumstances, but it was especially ugly coming from a German company. After all, in 1938, a year that was the prelude to the Holocaust, the Nazis also imposed collective punishment on all Jews for the "sins" of a few…
HANGOVER KWEEN:
With Nan, it's a feature, not a bug…
The Morning Briefing: Nancy Pelosi Should Probably Stop Getting Drunk Before Work
Hair and Nails …
Jon Brown: 'DEFINITELY IN HIDING' – Doctors fear speaking out against Biden official's 'gender-affirming care' for kids: Doctors slam Levine's claim all agree on 'gender-affirming care,' fear speaking out: Several medical professionals say their colleagues are afraid to 'challenge this narrative'
If schools want school levies to continue to pass for tax dollars they had better get ahold of the bullshit and insanity going on inside their classrooms and start education our children in the real academic subjects…
Bailee Hill: Louisiana pushes back on wokeism with new social studies curriculum: America was 'exceptional' from beginning: The new social studies standards were adopted back in March
BONUS: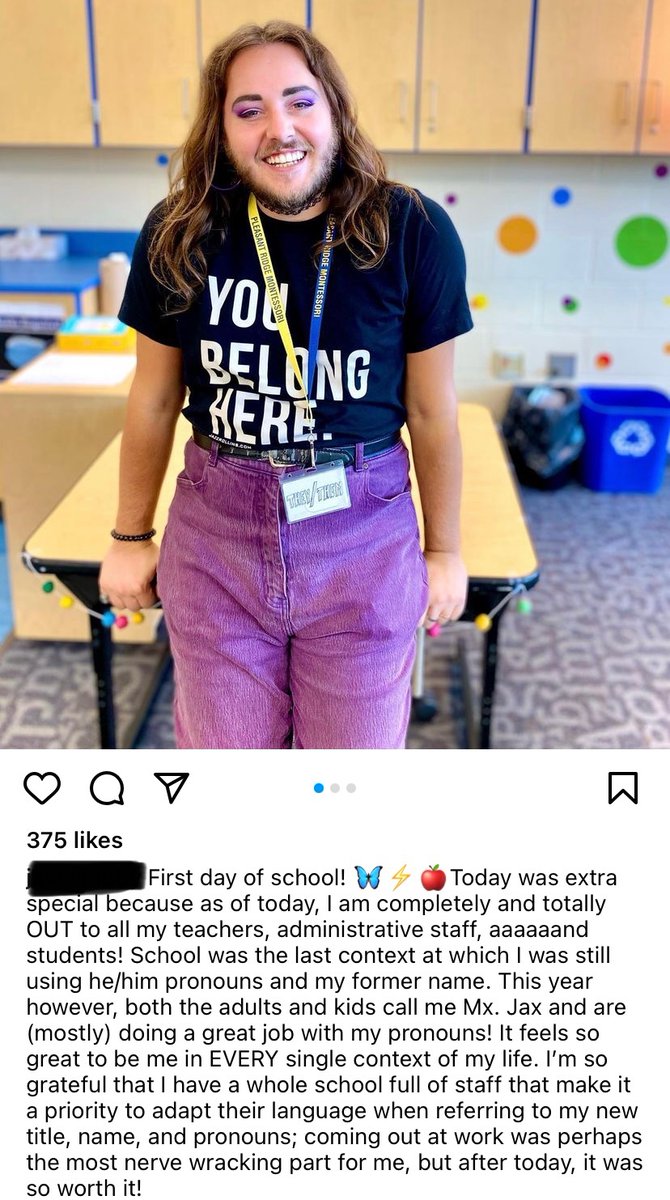 Why are they all TEACHERS?

— Rob Smith 🇺🇸 (@robsmithonline) May 11, 2022
You know, Rob, I went to Catholic school in the 60s. The past pedophile priest scandals that erupted over these last few decades I've asked that question in regard to priests. As an adult I came to the same 'grooming' conclusion we now have w/public school teachers of this sort.

— Maggie (@drillanwr) May 11, 2022
Only this time they're openly admitting their end goals with our children.

— Maggie (@drillanwr) May 11, 2022
The more TikTok videos I see exposed of these entities (on Libs of TikTok on Twitter) the more they cross that Rubicon of their theater of the macabre in society. These people are so easy to parody now that it's not necessary because who can tell satire from reality now. AwakenWithJP's YouTube videos are typically ridiculously hilarious but this one, seriously, is very close to accurate to actual videos these teachers are shamelessly, willingly and willfully posting of themselves on the social media (owned by China) site TicTok…