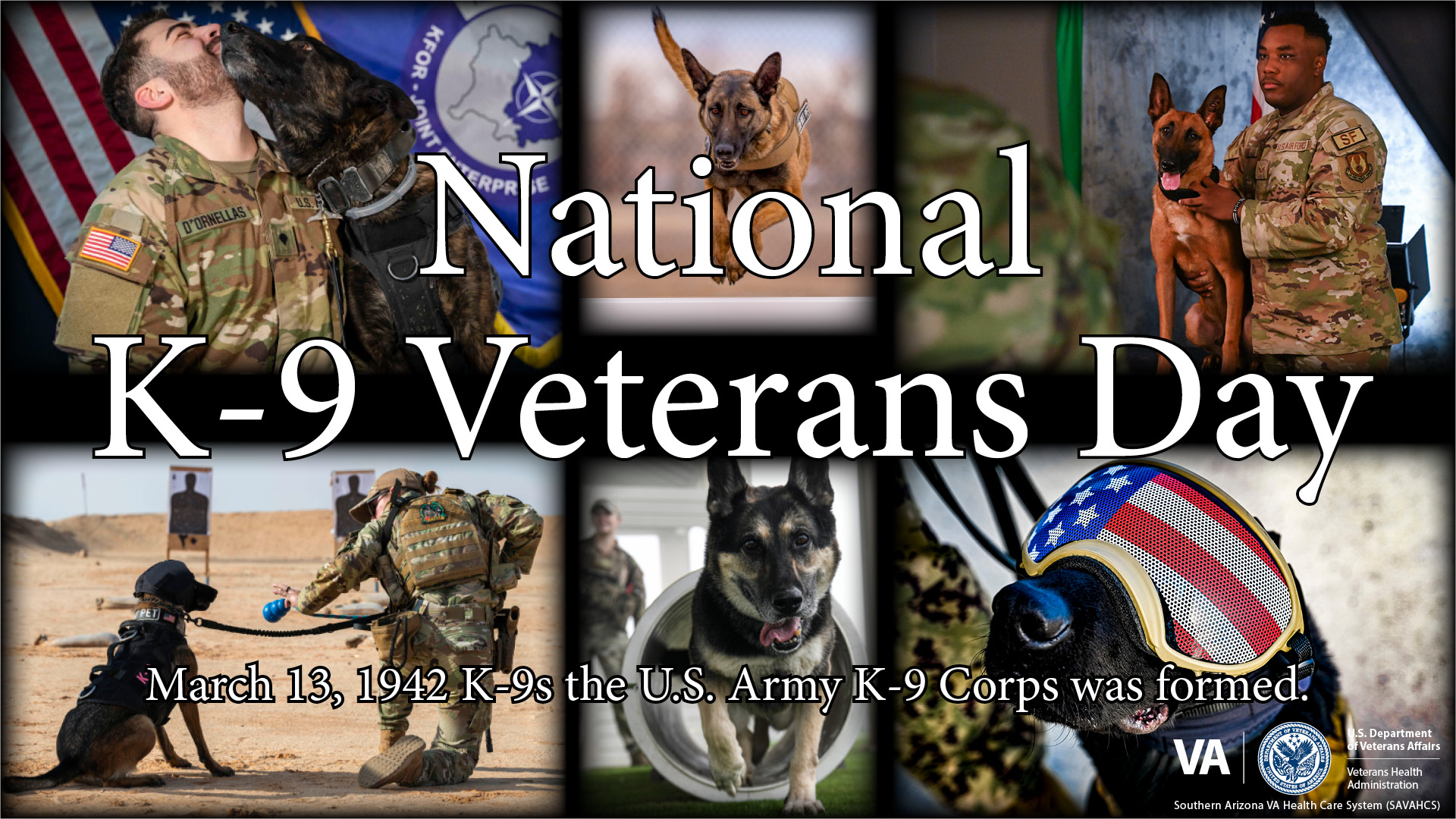 National K9 Veterans Day honors the service and sacrifices of American military and police working dogs.
On March 13, 1942, the Army began the K-9 Corps.
Dogs, some veteran K9s, are trained and become 'service and support dogs' for our PTSD human military veterans and for other civilians in need of their unique mental and emotional support.
Our Four-legged Heroes: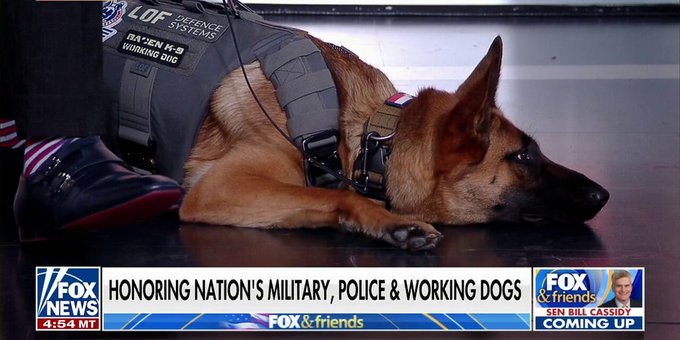 VIDEO: Celebrating National K-9 Veterans Day: Jason Johnson, founder of Project K-9 Hero, and Army Ranger veteran Patrick Leser join 'Fox & Friends' to salute police and military dogs.
The Bullshit Whisperer:
Steven Nelson: Biden whispers Reagan was 'wacko liberal guy' while pushing for tax hikes
The only real solution to Biden's insane double-triple taxing…
Jessica Chasmar: Sen. John Kennedy says the only way to improve Biden's budget 'is with a shredder': GOP senator says, 'The president's budget took my breath away'
As they attempt to blame Pres. Trump for the SVB crash:
This bullshit 'blame Trump' missive by the MSM and the left will fail just as the blame for the East Palestine train mess 'Trump's-to-blame' one did…
By the way, Trump deregulated banks like Silicon Valley Bank, which failed Friday.

— Robert Reich (@RBReich) March 11, 2023
That's an ignorant and simplistic way to look at SVB but of course you know this. Trump didn't change the FDIC deposit rate. Trump didn't loosen credit standards to startups. SVB approved lines of credit no other bank would have approved.

— FugitiveMama (@fugitivemama) March 11, 2023
Biden has been president for more than 2 years. His appointees control all regulatory agencies. Until 2 months ago, Democrats controlled both houses of Congress.

So whose fault is this week's collapse of the Silicon Valley Bank? Obviously: Trump's (probably Putin's, too). 🌊 https://t.co/2VCxgJFQce

— Glenn Greenwald (@ggreenwald) March 11, 2023
BIDEN: "During the Obama/Biden administration, we put in place tough requirements on banks…to make sure that the crisis we saw in 2008 would not happen again. Unfortunately, the last administration rolled back some of these requirements." pic.twitter.com/BHz4gzOQxy

— Townhall.com (@townhallcom) March 13, 2023
FOX Business: "SYSTEM IS SAFE" – Biden reacts to Silicon Valley Bank's historic collapse, refuses to take questions: Biden hints he will seek stronger regulations on banks
Twitchy: Joe Biden stuck around just long enough to lie about who's on the hook for SVB bailout
President Biden stressed that "no losses will be borne by the taxpayers" in the U.S. rescue of Silicon Valley Bank deposits. @kaylatausche reports. https://t.co/cWfPODpUFb pic.twitter.com/Fcb1YhGPJq

— CNBC Politics (@CNBCPolitics) March 13, 2023
He is correct the SVB bailout cost will not be borne by the taxpayer…. It will only be borne by every taxpayer who has a bank account and pays bank fees 🤦‍♂️ https://t.co/oLSOIoqseX

— John Ʌ Konrad V (@johnkonrad) March 13, 2023
Well … Translation be like: "at some point you've made too much money if you need to, you know, put it in a bank", or something.

'Come on, man.' You know he would've said that if he'd hung around long enough for questions.

— Maggie (@drillanwr) March 13, 2023
Where in the world does he think the government's money comes from

— HerbertDanforth (@HerbertDanforth) March 13, 2023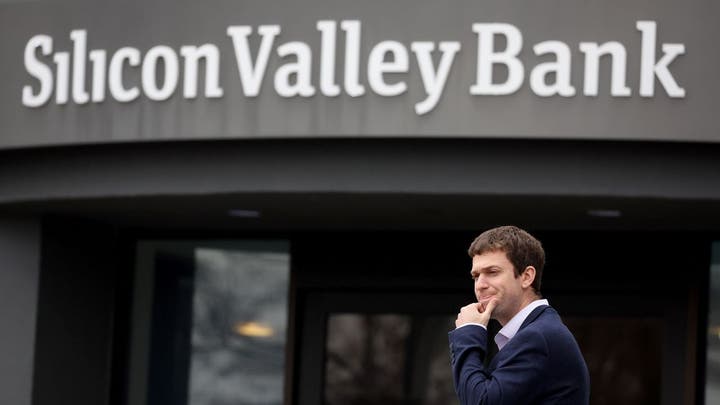 Andrew Miller: Liberals blame Trump for Silicon Valley Bank collapse citing 2018 bipartisan bill: Trump signed bipartisan legislation rolling back parts of Dodd-Frank in 2018
CBS News (10/14/20): Trump claims Biden win would cause depression despite economists' forecast
Meanwhile…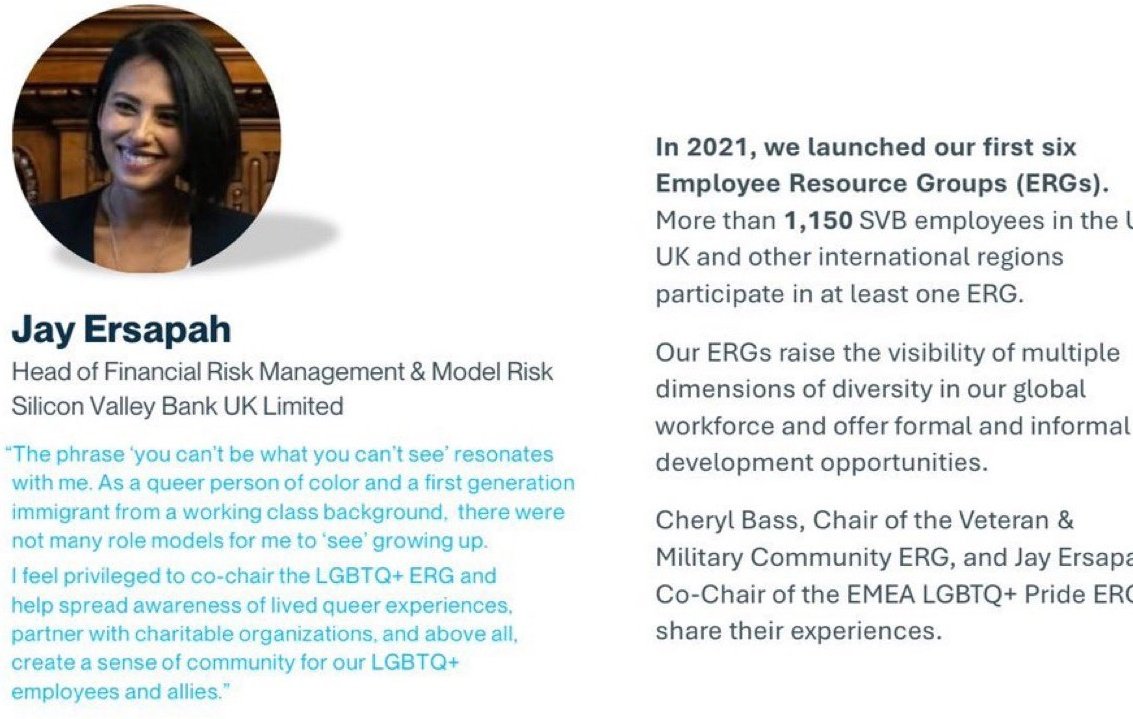 Who the hell was in charge of risk management at SVB and what the hell were they focused on???

— Comfortably Smug (@ComfortablySmug) March 11, 2023
Twitchy: SHOCKER: Comfortably Smug exposes the REAL issue with Silicon Valley Bank and OMG-LOL we KNEW IT
Helena Kelly: SVB had NO head of 'risk assessment' for nine months before it collapsed… as woke boss for Europe, Middle East and Africa was busy organizing a month-long Pride campaign and a 'Lesbian Visibility Day'
CNBC: Silicon Valley Bank employees received bonuses hours before government takeover … This, in addition to those who dumped their stock ahead of the collapse.
Adam Sabes: Silicon Valley Bank posted 'financial crimes' senior manager job listing just before closure: The California Department of Financial Protection and Innovation shut down the bank on Friday
Suzanne O'Halloran: How Silicon Valley Bank got burned: Silicon Valley Bank's collapse is the second largest in U.S. history
Beege Weborn: Gird your loins: I'm not sure "bloodbath" will be descriptive enough for Silicon Valley Bank failure Update: Yellen says no bailout, focus on depositors MORE: Auction underway
More "proof" these past near-26 months have all been Trump's fault, or Putin's … but Trump and Putin are one-in-the-same, or someshit…
The Fed's raising rates "cause and effect" syndrome is just starting.
Ryan King: Janet Yellen rules out federal bailout for Silicon Valley Bank
The radioactive fallout of the big blast…
J.J. Sefton: With everything going on in the world, whoever had a nationwide run on the banks on their scorecard for today, you just won a 1978 Chrysler Cordoba! Go pick up the keys in Morty's office.
Joel Kotkin: The SVB collapse marks the end of the Silicon Valley era: The Bay Area is no longer brimming with innovative startups and entrepreneurs … Go #WOKE get #BROKE.
Rick Moran: Did Woke Policies Help Lead to the Collapse of Silicon Valley Bank? When the story of why Silicon Valley Bank was taken over by the FDIC is written, the role played by policies that sacrificed fiduciary responsibility for wokeness should be examined. … This is very damn important because every single damn countless trillions of dollars in this administration's policies are indeed based in #WOKE ideology, from equity to racial justice to gender identity to climate change. ALL of it.
Greg Byrnes: Interest Rate Hikes May Trigger an Avalanche of Household Debt while Badly Run Bank Collapses Capture the Headlines for Now
Abuse of Power should never be rewarded or repeated:
Jerry Dunleavy: GOP warns of 'trust' deficit facing FBI's FISA renewal push
The Department of Homeland Security has swayed into yet another politicized federal agency and its uselessness on our border is just one example of that…
Nick Gillespie and Justin Zuckerman: DHS Just Turned 20. It's Time To Abolish It: Break it up into fewer, smaller agencies that are more accountable to pre-9/11 departments.
George Soros is the Cordyceps Infection in Our Country:
Hannah Grossman: St. Louis homicide detective blows whistle on Soros-backed DA's 'concerted effort to break down the system': Roger Murphy warned young people not to go into law enforcement, saying 'it's not worth it'
Biden's Border Collapse – Our Border is NOT "Secure":
Videos are embedded in Bill Melugin's tweeted below. The report is the vast majority were Venezuelan…
BREAKING: Our contact in Juarez, MX tells us a massive group of at least 1,000 migrants just attempted to rush a port of entry in El Paso in an effort to get into the United States. Video shows them pushing past the Mexican side of Paso Del Norte bridge. Awaiting CBP comment. pic.twitter.com/lxriIB3TSm

— Bill Melugin (@BillFOXLA) March 12, 2023
NEW: This is the bilateral show of force that dispersed the huge group of migrants trying to rush a port of entry in El Paso today. Two lines of Mexican military, then on the US side, physical barriers, barbed wire, and a skirmish line of CBP officers in crowd control gear. pic.twitter.com/YPaNBUhQhu

— Bill Melugin (@BillFOXLA) March 13, 2023
NEW: Statement from CBP regarding the attempted rushing of the Paso Del Norte port of entry by a massive group of migrants. pic.twitter.com/kEtL0XT3Dk

— Bill Melugin (@BillFOXLA) March 12, 2023
James Gordon: 'Absolute madness': Massive horde of migrants storm El Paso border checkpoint in brazen attempt to enter the US as wild footage shows them tearing down concrete barriers and wire while agents scream 'they're coming, shut it down'
And our northern border continues to fall…
April Barton: 'Extremely dangerous': Spike in illegal crossings at Canada-Vermont border has feds sounding alarm
Meanwhile, China to our south…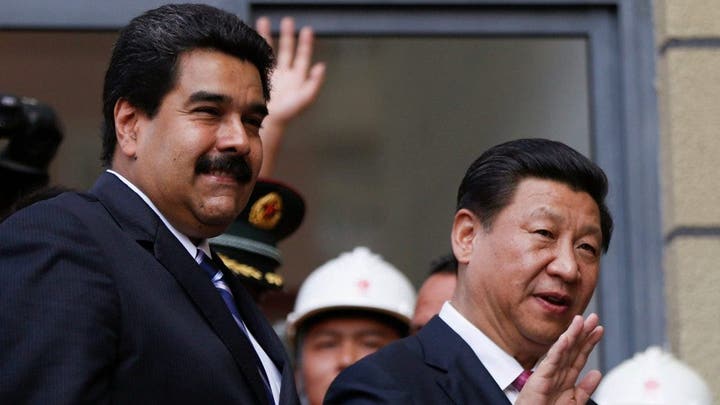 Caitlin McFall: China flexes muscles in Latin America in latest security challenge to US: US struggles to keep up with mounting Chinese threats coming out of Latin America
MORE:
Colleges are fetid money pits and intellectual blackholes…
All you rabid leftist "feminists" have completely sold-out your sex/gender and can have nothing further to offer any 'debate' on anything. You are never again to be taken seriously…
CR: Colleges throw out Women's History Month, celebrate 'Womxn' instead: Across the United States, colleges are replacing the 'Women's' in 'Women's History Month' with the woke-appropriate 'Womxn's.' The change is a ploy to make Women's History Month more gender-neutral and to distance women from men.
Like this bullshit…
Twitchy: Watch: Group of women refuse to define what a woman is because it might offend men
They know the answer, every last one of them (except that last one…not sure who she is) but they refuse to answer and instead attack the question because they are terrified to go against the NPC programming.

— Alex (@cyclops_2099) March 12, 2023
So, 8 of the 9 young ladies could not answer the question: What is a woman?
★A woman is anyone who wants to identify as one
★I dont want to invalidate the trañsgender experience
★I'm not comfortable with answering
★I won't answer because you're committed to not understanding https://t.co/MyfwkeTxyy

— Kemi Owonibi (@KemiOwonibi) March 12, 2023
You can cut off parts and construct fake parts, wear opposite gender clothing and make-up and hair, but being a "woman"/female and a man/male is in your DNA and you cannot change that … atleast not yet.
Paul Caron: A Law School's 'Denaming' Evokes Donor Family's Ire
Good luck with this…
TCF: Colleges need to teach students how to listen, debate: university president
Twitchy: WATCH as white male college student who thinks he's 'privileged' is deprogrammed in REAL-TIME (video)
TCF: In 'victory for free speech,' Cornell to host climate change debate
MSMehhhhh…
Miranda Devine: The media ignore Democrats in Congress stepping on freedom of speech
Trick question:
Which NYT story is about a Republican? pic.twitter.com/nGNM6nlWtU

— John Ashbrook (@JohnAshbrook) March 10, 2023
Bookworm: The media sin of reporting and debating from false premises
Clarice Feldman: This Great Stage of Fools: If you've ever wondered why the Left is so successful in fooling so many people for so long…
This…
NAOMI WOLF: Dear conservatives, I'm sorry I believed so many media lies: "There is no way to avoid this moment. The formal letter of apology. From me. To Conservatives and to those who "put America first" everywhere…"
A point I have made over and over since 9/11 is that many events in history are both real and hyped. Many actors in historic events have their agendas, but are also at times used by other people with their own agendas, in ways of which the former are unaware. Terrorists and terrorism in the Bush era are one example. This issue was both real and hyped.

"Patriots" or "insurgents" (depending on who you are) entering the Capitol can be part of a real event that is also exploited or manipulated by others. We don't know yet if this is the case in relation to the events of Jan 6, or to what extent it may be the case. That is where a real investigation must come in.

But as someone who has studied history, and the theatrics of history, for decades, I was not at all surprised to see, on Mr Carlson's security camera footage, the person who was to became the most memorable 'face' of the 'insurrection' (or the riot, or the Capitol breach) — escorted to the beating heart of the action, where his image could be memorialized by a battery of cameras forever.

There are other aspects of the Jan 6 breach that seemed anomalous to me from the start. I study the relationship in history of buildings such as The White House and the Capitol, to the US public; I follow the way in which the public is either welcomed into or barred from these structures.

The White House itself and the Capitol steps have often been open to US citizens. They are public buildings…

The Capitol is not a sealed space exclusively for legislators, but it is one that is supposed to welcome the public in an orderly way. We should not be encouraged to forget this.

The violence of Jan 6 and its subsequent service as a talking point by the Democrats' leadership, risks its use also to justify the closing off of our public buildings from US citizens altogether.

This would be convenient for tyrants of any party.

Leaving aside the release of the additional Jan 6 footage and how it may or may not change our view of US history —- I must say that I am sorry for believing the dominant legacy-media "narrative" pretty completely from the time it was rolled out, without asking questions…
Read the whole thing.
YOU CAN'T "FOLLOW THE SCIENCE" IF IT'S NOT SCIENCE, AND IF IT'S NOT REPLICABLE IT'S NOT SCIENCE: Social science is irreproducible, drug tests nonreplicable, and stoves studies ignore confounders.
Longterm…
Salena Zito: In Beaver County, anx­i­ety and un­cer­tainty un­der the black cloud of a rail di­sas­ter … Home/property value has already begun to slide in East Palestine.
J6-ers:
Smells like antifa…
Twitchy: DAFUQ?! Here's some actually NEWSWORTHY #J6footage from trashed suite of Senate hideaway offices
Deanna Fisher: Chansley Gains Support From Musk And Turley
Hollywood's night-of-nights:
Hollywood's always proving it's an ungrateful sap town/industry, not just to customers but to its own…
Heather Hamilton: Oscars 2023: Top Gun: Maverick snubbed despite being credited as having 'saved Hollywood'
Ryan Smith: Oscars In Memoriam Slammed After Snubs—'Should Be Ashamed'
Big Winners…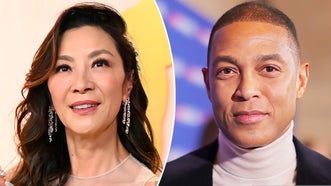 Kudos…
Jeffrey Clark: Don Lemon seemingly roasted at Oscars by Michelle Yeoh: 'Don't let anybody tell you you're past your prime': Don Lemon has been widely condemned for saying that women were only in their 'prime' in their '20s and 30s and maybe 40s'
Michelle Yeoh is 60 years old, and Jamie Lee Curtis is 64 years old.
Jonathan Landrum, Jr: Jamie Lee Curtis won Best Supporting Actress for her performance in "Everything Everywhere All at Once"
Also, remember this kid from "Goonies" and "Indiana Jones"?
He has a real life story that Hollywood should script into a movie…
Daniela Avila: Ke Huy Quan Shouts Out His Goonies Costars After Oscars 2023 Win: 'Goonies Never Say Die'
Katie Reul: 'Everything Everywhere All at Once' Wins Seven Oscars, Is Most-Awarded Best Picture Since 'Slumdog Millionaire'
I've yet to view "Everything Everywhere All at Once" but see it is streaming, so, it's on this week's 'wish list' for me. The trailer looks entertaining … something Hollywood just can't get a grip on in recent decades. Ticket prices are outrageous. People want entertainment, not #WOKE political scolding lectures. I'll also be re-watching "Top Gun: Maverick" for the umpteenth time.
If you care, which I really don't but found these wins interesting…