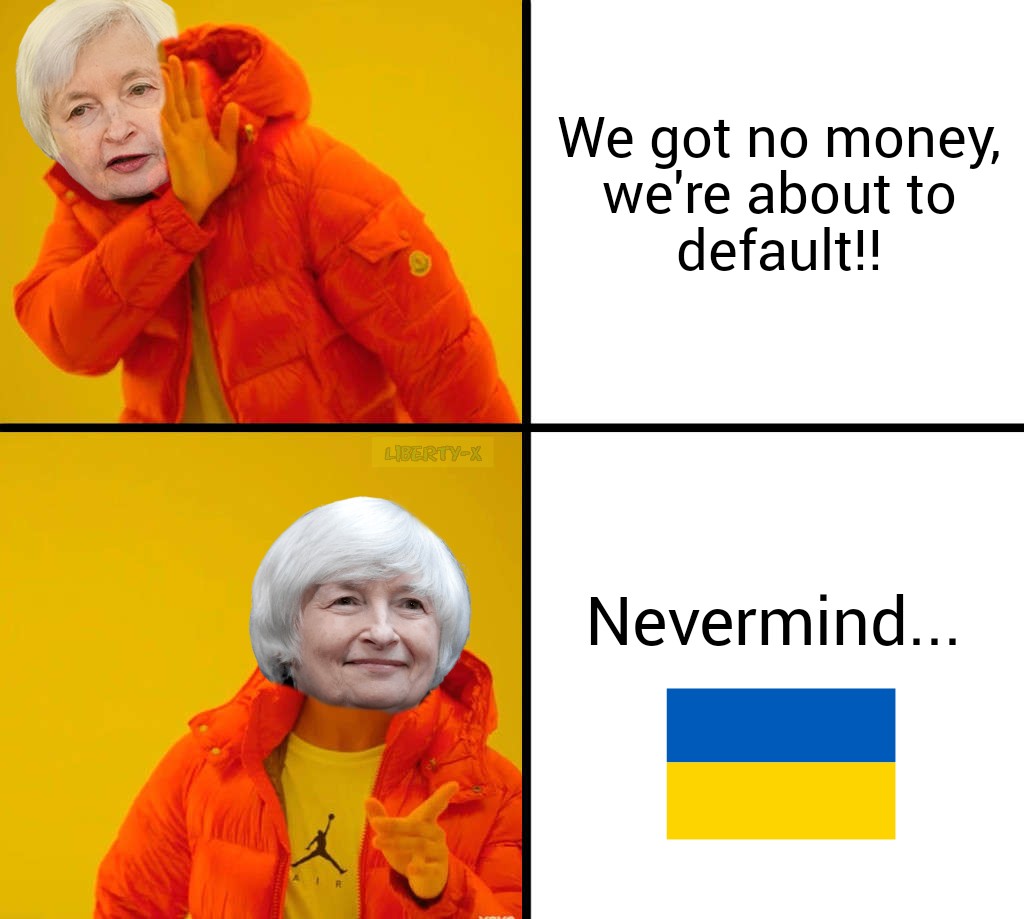 Good Monday, fellow Spectators. Hendrix is smiling…
Ryan Gaydos: College baseball player performs national anthem on guitar before game: Tre Jones III brings down house with performance, gets 3 hits in game against Incarnate Word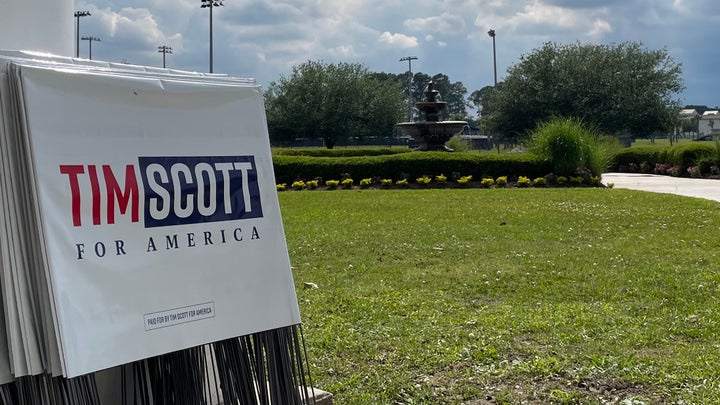 Paul Steinhauser, Mark Meredith: 2024 GOP PLAYING FIELD – Tim Scott launches presidential campaign, 'Miracle of America'
Please read this in full. It's critically spot-on…
Victor Davis Hanson: The Absurdities of Our Age: What cannot go on, will not go on and all the absurdities of the present will end with a bang not a whimper.
A sign of a civilization in headlong decline is its embrace of absurdities. Unfortunately for the United States, we are witnessing an epidemic of nihilist nonsense. Here are a few examples:

Reparations
…
Inequality Under the Laws
…
Nullification
…
Rogue Agencies
…
Printing Money
…
Biden is Bullshitter-in-Chief: That whole 'debt ceiling' thingy:
BIDEN: "I doubt many people…would've said that two years after being elected, I'd be able to convince India, Australia, Japan, and the United States to form an organization called the Quad."

The Quad was re-established in 2017 under President Trump. pic.twitter.com/TsUHE4TSqA

— RNC Research (@RNCResearch) May 21, 2023
President Biden is continuing to invoke the dubious 14th Amendment claim that he can effectively raise the debt ceiling without congressional approval. https://t.co/5xAiFnkTzw It is constitutionally and logically flawed despite growing Democratic support. https://t.co/SzCN45ZF2B

— Jonathan Turley (@JonathanTurley) May 21, 2023
They did this under Obama as well. They sat back and encouraged him to circumvent Congress with all his E.O.s and "Executive Actions". Oddly, a heck of a lot of what Biden 'is doing' mirrors Obama. I don't believe for a second Biden is writing/making any of these policies. ANY.

— Maggie (@drillanwr) May 21, 2023
Jonathan Turley: Congressional Democrats beg Biden to nullify their existence
Yep…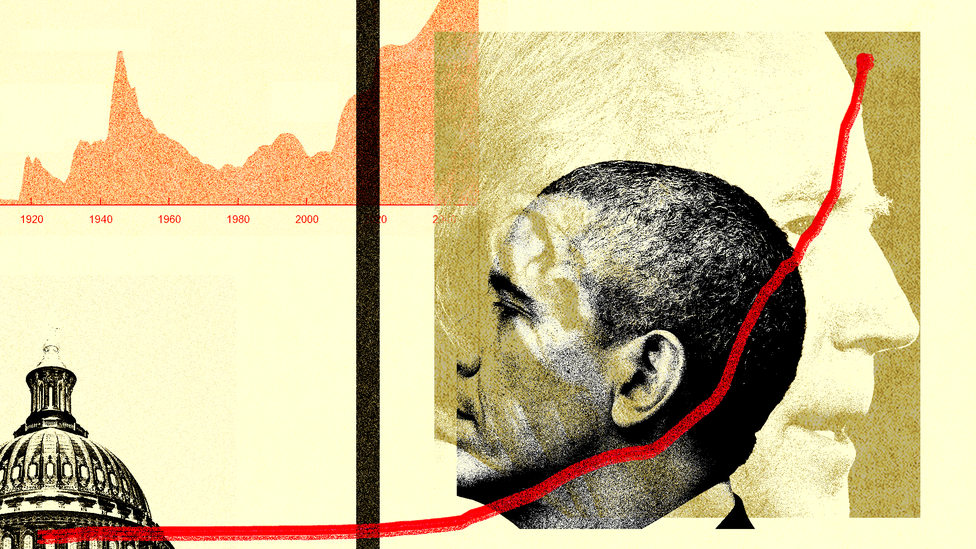 Ronald Brownstein (1/27/23): The Logic Behind Biden's Refusal to Negotiate the Debt Ceiling: The president's current posture on the issue has a history.
Invoking the 14th Amendment to avoid default on the debt is a terrible idea, not for legal reasons, but political. It would be an end-run around the political process, and set a terrible precedent for future end-runs by Republicans when they are in a position to do it.

— Richard N. Haass (@RichardHaass) May 20, 2023
Dear @RichardHaass: So when was the last time you remember Democrats threatening to crash the US economy by manufacturing a debt default?

This isn't a both sides issue. This isn't a negotiations issue. This is a hostage taking by Republicans who are willing to crash the economy. https://t.co/ndFt7MvlgR

— Ted Lieu (@tedlieu) May 21, 2023
Every continuing resolution.

— The More Perfect Union (@theRealMPU) May 21, 2023
Continuing resolutions are generally done to prevent government shutdowns. This is a totally different issue. We can withstand a government shutdown. But defaulting on our debt would potentially be catastrophic.

— Ted Lieu (@tedlieu) May 21, 2023
"We can withstand a government shutdown"
Um, that's NOT what dems say everytime we're facing a 'government shutdown'. Y'all basically insinuate we're threatened w/'mass extinction' or something. A dog makes more progress chasing its tail than you/dems do spinning this BS.

— Maggie (@drillanwr) May 21, 2023
Anders Hagstrom: Biden declares himself 'blameless' if US defaults on debt: 'I've done my part'. Biden blamed 'MAGA Republicans' in Congress for derailing debt talks
Nuh-uh, Brandon…
So much of what Congressional Republicans have proposed during budget negotiations is simply unacceptable.

It's time for them to move off their extreme position and act to avoid default. pic.twitter.com/cg7sV9k7Es

— President Biden (@POTUS) May 21, 2023
It is impossible for the US to default on existing debt unless you directly order the Treasury to do so. Ongoing revenues cover debt service 10 times over without any new debt.

Sorry. We're done funding the most corrupt administration in history. Resign, traitor.

— Adam Gaertner 🇺🇸 (@veryvirology) May 21, 2023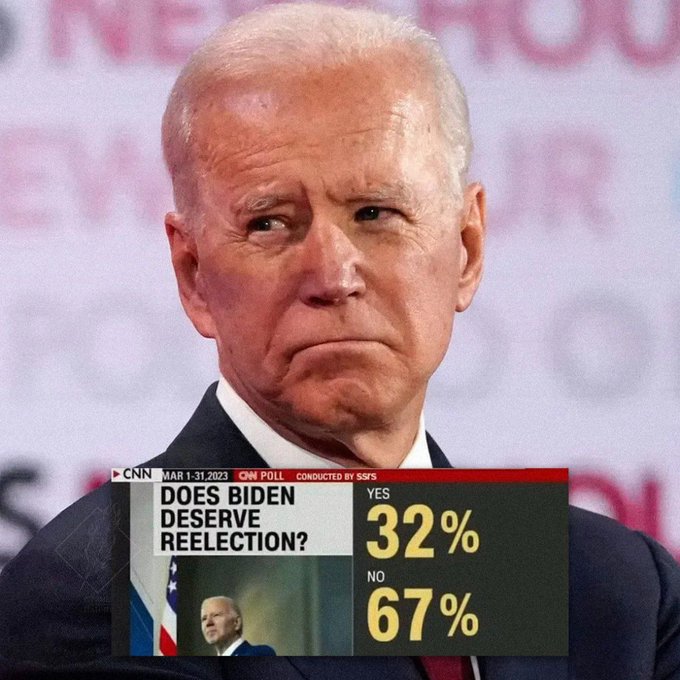 Anders Hagstrom: Biden faces dismal approval rating on the economy after launching 2024 campaign: Just 31% of Americans polled support President Biden's immigration and guns policies
AP/NORC Poll: President Biden Job Approval

Approve — 40%
Disapprove — 59%

The Economy
Approve — 33%
Disapprove — 66%

Immigration
Approve — 31%
Disapprove — 67%

n=1,680 | 05/11-15 | D44/R37/I19 https://t.co/rennO8wLFU

— InteractivePolls (@IAPolls2022) May 22, 2023
Twitchy: Yikes! AP/NORC poll on Biden approval suggests the wheels are completely coming off
Meanwhile…
Twitchy: Ted Lieu asks if people remember the last time Dems threatened to crash the economy and LOL-HOOBOY
Twitchy: Here's how noted anti-capitalist Bernie Sanders reportedly 'doubled his income last year'
Grumpy Old Fart…
In Japan, Biden gets fresh w/ reporter asking about the debt ceiling: "Shush up, OK?" pic.twitter.com/I2m9wKGCuy

— Tom Elliott (@tomselliott) May 20, 2023
He will continue to shovel dog shit down their throats and they will continue to ask for more of it with big smiles. https://t.co/RdLmf7BkU3

— Stephen L. Miller (@redsteeze) May 20, 2023
Grabien News VIDEO: 'SHUSH UP, OKAY?: BIDEN SHUTS DOWN REPORTER ASKING ABOUT THE DEBT CEILING. 'Thank you'
Twitchy: 'Truth-to-power' update! Biden tells reporter to 'shush up' — all reporters shush up
Biden's Ukraine swindle…
Reuters: Biden unveils new $375 million U.S. military aid package for Ukraine
Meanwhile…
Cooking the books so they don't have to go back to Congress for more money, very slimy https://t.co/32jATia90M

— Jack Montgomery (@JackBMontgomery) May 21, 2023
Jack Montgomery: Biden Govt 'Revalues' U.S. Weapons for Ukraine to Pretend It Hasn't Spent As Much: The Pentagon is looking to revalue the cost of the military equipment it has sent to Ukraine, allowing the Biden government to say it has spent less money on the war – and potentially spend even more.
Hunter-Gate: Talk about "white privilege"
Jonathan Turley: Hunter Biden Faces Call for Key Business Associates in the Arkansas Proceedings
There is a new and interesting development in Arkansas where attorneys for Lunden Alexis Roberts have prepared a list of witnesses for the upcoming proceedings involving Hunter Biden's daughter, Navy. As previously discussed, Hunter Biden is seeking to reduce child support payments and has balked at Navy being able to use the Biden name. If successful, this could get a lot worse for Hunter in his allegedly efforts to conceal his past income. On the list are business partners at the center of the influence peddling scandal…

On the list are business partners who are connected to millions of dollars acquired from foreign interests in China, Ukraine and other countries. Also on the list is New York City art gallery owner Georges Bergès who continues to sell his art.  Bergès has reportedly pushed back on congressional efforts to reveal details on these proceeds and buyers even though former government ethicists have raised concerns over the sales.

The costs of these proceedings and high-priced legal team would seem to undermine claims of financial distress by Biden. However, by putting his financial worth at issue, Hunter has opened up a new front in battling over the disclosure of his past dealings. Some of his past associates are reportedly cooperating with House investigators in tracking foreign payments…
This a family of complete unmitigated narcissistic sociopaths…
Hunter Biden spends 55k on PRIVATE JET to attend hearing to claim he's too poor to pay child support for daughter that Joe Biden refuses to acknowledge: reporthttps://t.co/p6Zl68v11l

— Jack Poso 🇺🇸 (@JackPosobiec) May 20, 2023
Imagine a multimillionaire taking a private jet to attend a court hearing where he's claiming poverty in order to reduce his child support obligation. That same man, btw, is also fighting in court to deny his child his family's name. The family name? Biden. His? #HunterBiden pic.twitter.com/lvp7LSqrUL

— Manuel Rosado 🍊🦅🇺🇲🇵🇷 (@RedStateRican) May 21, 2023
Jon Levine: Hunter Biden cried poverty but still flew to his child-support hearing on a private jet for at least $55K
The Democommie Senators in all their gory:
A man for no season. The MSM continues to give him credit for 'speaking', not for 'how' he's having acute difficulties, nor the content of what he's saying because you really cannot decipher what is coming out of his mouth. He's that kid in your grade school class that the teacher called on to clumsily read out loud a few paragraphs from "The Red Badge of Courage" and by the time he's done nobody knows exactly what he was reading because it doesn't match-up with what you've tried to read-along in your own book…
Jeffrey Clark: PANTS ON FIRE – Fetterman's fashion statement speaks volumes about recovery: Fetterman wearing 'hoodies and gym shorts' in Senate shows 'robust recovery,' AP report claims. Fetterman reportedly 'votes from the doorway' or a 'side entrance' to get around the Senate's strict dress code rules
Sen. John Fetterman used to walk the halls of the Senate stone-faced and in formal suits. Now, he's more relaxed, in hoodies and gym shorts.

People close to Fetterman say it's a sign of progress after six weeks of inpatient treatment for depression. https://t.co/CZU3wqhcFn

— The Associated Press (@AP) May 21, 2023
2 things are clear here:
1. if, say, a GOP senator dressed like this you'd trash him … her
2. if, say, Fetterman walked the halls of the Senate in his bare-feet and BVDs scratching his groin you'd still fawn

— Maggie (@drillanwr) May 22, 2023
Twitchy: The AP got BLASTED by Twitter after claiming Fetterman's sloppy clothes are a sign of progress
Pelosi is pushing for DiFi to stay so she can finangle that Senate seat for the habitual liar Adam Schiff-head…
VIDEO: Democratic Senators Fetterman, Feinstein face concerns over health
Meanwhile…
Andrew Mark Miller: FANCY THAT, NANCY – Nation left in suspense over Pelosi's false 'cold hard evidence' claim against Trump: Pelosi silent on Trump 'cold hard evidence' collusion claim after Durham report shows FBI, DOJ wrongdoing
MORE:
Ummm, maybe buy your own. "Trust No One"…
Many are worried a cyber attack prior to the 2024 election would be used to justify changes in voting procedures that will benefit Joe Biden

Today we learned that US Senators are being issued special satellite phones for this exact scenario

Not goodhttps://t.co/vcXBYUGUj9

— DC_Draino (@DC_Draino) May 22, 2023
Scott MacFarlane: Senators issued satellite phones, offered demonstrations on upgraded security devices
Just a reminder…
WEF (1/18/23): Geopolitical Instability Raises Threat of 'Catastrophic Cyberattack in Next Two Years'
🤣👍 Recap: Wuflu is man-made, laptop is real, Russian Collusion is not real, Intelligence community is corrupt, Boarder is wide open, Globalist Agenda for World Domination is Open Source News, Federal Reserve Bank is broke, Epstien didn't kill himself, what am I forgetting? pic.twitter.com/gjbvenryIn

— Corin Nemec (@imcorinnemec) May 20, 2023
I think you're forgetting the impending swarm of hatred and rape accusations you're about to experience and that you are just another white-privileged racist and should never get another job in hollyweird. 🙄
But hey what do I know?
I know I applaud your honesty!👏👏👏👍

— Dr. Deplorable (@Elonhasballz) May 21, 2023
Twitchy: Hollywood's Corin Nemec drops many many MANY truth bombs on Twitter and it's GLORIOUS
No. No, only those cities (and states) that a few years ago declared themselves a "Sanctuary City/State" are to take-in these people. ONLY these places … or deport the lot of them…
Terresa Monroe-Hamilton: NYC Mayor wants to send illegals to every city 'throughout the entire country'
It really is Transhausen By Proxy sickness…
Kyle Morris: Nebraska senator flips out debating ban on sex change surgeries for minors, screams 'we need trans people': 'Transgender people belong here, we need trans people, we love trans people,' state Sen. Machaela Cavanaugh shouted
WTF ever happened to "ME TOO!!!" for women?…
The "trans" interloper is #2 on the podium…
Richard Pollina: 'Cheated' – High school track star appears to give 'thumbs-down' after she's pushed out of state champs by transgender competitor: "They're kicking us out because we care about women and girls," a protester proclaimed at the track and field competition in California.
Amber Harding: TRANS HIGH SCHOOL TRACK RUNNER ROBS FEMALE ATHLETE OF STATE CHAMPIONSHIP BID: Another day, another biological male taking opportunities from deserving females.
Gotta love when they completely contradict themselves and prove we are CORRECT…
Paul Sacca: Target faces backlash for selling products from transgender designer promoting violence, drug use, Satanism
The founder and designer of Abprallen is Erik Callen, according to TransLash – a website that is "building experiences to advance trans narratives, histories, healing, and – most importantly – the human rights of trans people."

A 2020 Kickstarter crowdfunding campaign for Abprallen was created by Erik Callen.

Last week, Callen wrote about selling his LGBTQ products at Target.

Being able to sell my stuff in Target stores is incredibly exciting, knowing that people are seeing it without (necessarily)explicitly seeking LGBT-related stuff is wonderful, and I'm especially happy at the thought that young closeted people will see it, and I hope that in some way they'll feel a bit more comfortable in themselves, as we all deserve to feel.
You can get the sweatshirt and the bags on the Target website or in stores.
Callen added, "These have already got the transphobes infuriated with me and I feel like quite the celebrity to think that they believe this is all some big conspiracy and I have any power to brainwash anyone when I'm just some guy drawing pictures!"

Callen claims that the word "groomer" is a "right-wing, transphobic word that is currently being used against trans people who stick up for trans youth in the same was it was used against gay people for sticking up for gay youth."

However, Callen confesses that he was groomed when he was young, and he will "likely be working through it for the rest of his life."…
Oh, my. The "Epstein didn't kill himself" theory sure keeps growing in the evidence level of need to silence the international pimp…
Chris Donaldson: Bombshell report suggests Epstein blackmailed Bill Gates over affair with a Russian
Imbecilic actions require old school treatment of imbeciles. Public floggings, tarring/feathering, stocks with pelting with rotten produce and then off to jail…
Michele Blood: Climate vandals blacken water in Rome's Trevi Fountain; police drag them away
As the California Gov. Newsom continues his attacks on Florida…
You don't get to rewrite history in a back room.

You don't get to erase basic facts around segregation, the holocaust, or Rosa Parks' story.

The extremists in Florida and textbook companies that are colluding with them are about to be exposed. https://t.co/63tAp67f0Q

— Gavin Newsom (@GavinNewsom) May 21, 2023
Jesus Christ Gavin kids are graduating california schools without being able to read and you're wasting time on book publisher conspiracies

— Corinne Clark Barron (@corinnec) May 21, 2023
Florida ranks #1 and #4 in 'best states overall' while California #20 and #33 in 'best states overall' in education according to this ranking.
If only you spent as much time on your own state. YOUR failed state, sparky. YOUR California. https://t.co/5yNpaqxceC

— Maggie (@drillanwr) May 22, 2023
Ronny Reyes: Video shows man brutally attacked by mob of cyclists in downtown LA