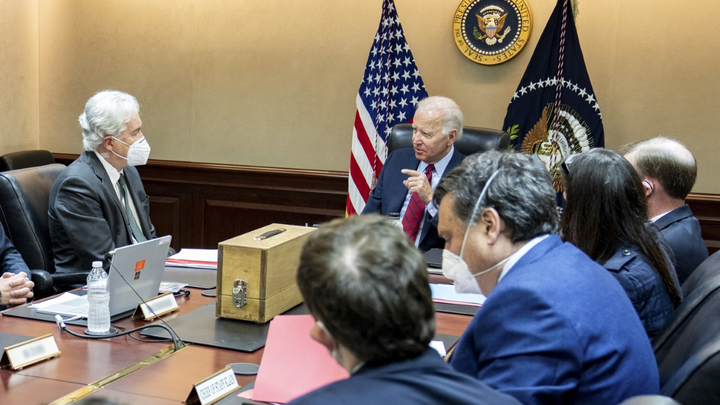 Just a side-observation to this photo-op for the MSM to feed the masses: Oddly, the guy who's tested positive twice in less than two weeks with COVID and has been/is symptomatic both times is the only one in the photo not wearing a damn mask.
Greg Norman: White House releases image of Biden huddling with advisers ahead of al-Zawahri strike … I can comfortably wager Brandon had very little, if anything, to do with this alleged strike than scribbling his signature on the authorization document(s) … and possibly/probably had to be convinced to sign.
Question…🙋‍♀️
How did Biden kill a terrorist that was already reported dead in 2020?

— ꧁༄𝔹𝕝❀𝕟𝕕𝕚𝕖༄꧂ (@Sunshinegirl754) August 2, 2022
Same way he got 81M votes he brought back the dead

— Dr. Joe (@joegourmet_) August 2, 2022
Large-scale skepticism is required now, and is unavoidable at this point.
It doesn't escape some of us that this happened to happen a year after the Biden FUBAR of bugging out of A-stan and handing it over to the Taliban…
Just when Joe's sludge-buried poll numbers needed it, huh, the 'austere religious scholar' Ayman al Zawahri, Osama Bin Laden's "righthand man", on vacation in Biden's abandoned Taliban-infested Afghanistan is allegedly killed on the balcony of a house by a drone.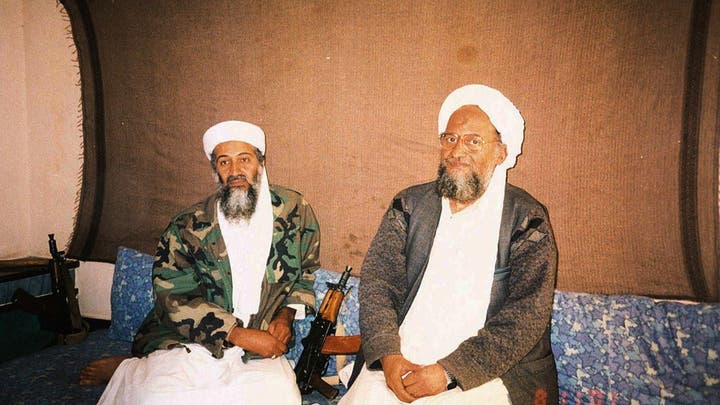 Haris Alic: Zawahri's Kabul death raises questions about al Qaeda presence in Afghanistan after US left it to the Taliban: Some had predicted after America's hasty withdrawal last year that al Qaeda would return to the country … Hold the phone…
That Zawahiri, after years of hiding and immense OPSEC, was killed on a balcony in a wealthy downtown neighborhood of Kabul–it just shows what a drastic sense of empowerment al-Qaeda leadership has felt under Taliban-ruled Afghanistan.

— Rita Katz (@Rita_Katz) August 2, 2022
Chris Enloe: Terrorism experts uncover glaring problem with successful strike against Ayman al-Zawahiri: 'Masks the undeniable truth'
1) The killing of Al Qaeda emir Ayman al Zawahiri will be sold as a counterterrorism success. But that narrative masks the undeniable truth that Taliban-controlled Afghanistan is a safe have for Al Qaeda. https://t.co/CGc5Fs8oMw

— Bill Roggio (@billroggio) August 2, 2022
2) The strike that killed Zawahiri is the first since the U.S withdrawal 1+ months ago. The U.S. saved best for first, and made the first counterterrorism strike count.

— Bill Roggio (@billroggio) August 2, 2022
3) Zawahiri was killed in the Sherpur neighborhood, in a home run by a deputy of Sirajuddin Haqqani. Sirajuddin is of course one of two deputy Taliban emirs as well as the interior minister.

— Bill Roggio (@billroggio) August 2, 2022
4) Zawahiri could not operate in Afghanistan – particularly in Kabul – without the consent of the Taliban. He wasn't in the remote mountains of Kunar, Nuristan, or Nangarhar, or distant provinces of Ghazni, Helmand, or Kandahar. He was in the Taliban's capital.

— Bill Roggio (@billroggio) August 2, 2022
5) The United Nations recently stated that Al Qaeda's "leadership reportedly plays an advisory role with the Taliban, and the groups remain close." Zawahiri's presence in Kabul would have allowed him to be in close contact with top Taliban leaders.

— Bill Roggio (@billroggio) August 2, 2022
6) Zawahiri's death was long overdue; cold justice for more than 4 decades of involvement for some of the most heinous terror attacks recorded. The Taliban's role in supporting and sheltering Zawahiri and Al Qaeda both pre 9/11 and to this day – remains undeniable.

— Bill Roggio (@billroggio) August 2, 2022
7) Trump's negotiations with the Taliban and Biden's subsequent withdrawal – particularly the method of withdrawal, which left the Afghan government to the predations of the Taliban – was a disaster. The Taliban-Al Qaeda alliance remains stronger than ever.

— Bill Roggio (@billroggio) August 2, 2022
Bill Roggio @ Long War Journal: U.S. kills Al Qaeda emir Ayman al Zawahiri in drone strike
Following Reported Death In Drone Strike Of #AlQaeda Leader Ayman #AlZawahiri – Exclusive #MEMRI Jihad And Terrorism Threat Monitor (JTTM) Analysis Of Al-Qaeda's Remaining Leadership https://t.co/CRANeklzAX pic.twitter.com/UJcctVL7N8

— MEMRI (@MEMRIReports) August 2, 2022
In Last Speech Before He Was Killed In U.S. Drone Strike In #Afghanistan, Released In July 2022, #AlQaeda Leader Ayman #AlZawahiri Stated: Muslims Should Resist Occupation Of Lands, Expose Christianity, Reject International Legitimacy, Atheism, Secularismhttps://t.co/zsqBB7zXlm pic.twitter.com/eG32McftSY

— MEMRI (@MEMRIReports) August 2, 2022
VIDEO: Marine veteran on al-Zawahri's death: Al Qaeda feels safe in Afghanistan again
Matt Margolis: Tucker Carlson Blasts Biden for Bragging About al-Qaeda Leader's Death: Here's Why
Meanwhile, The Wicked Witch of the West's broom lands in Taiwan…
Do you think Joe Biden even knows who Nancy Pelosi is?

— Tim Young (@TimRunsHisMouth) August 2, 2022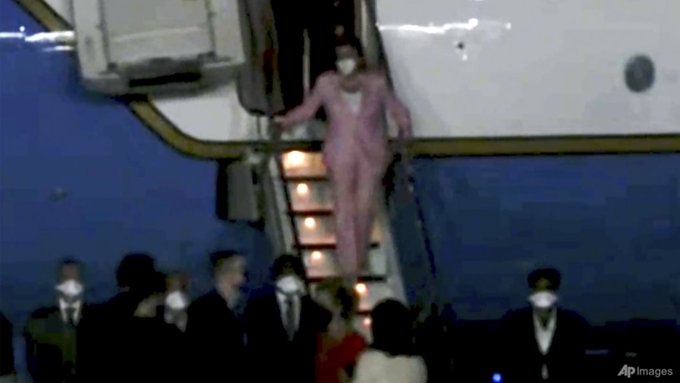 Timothy H.J. Nerozzi: THE SPEAKER HAS LANDED – Nancy Pelosi lands in Taiwan amid Chinese threats, military activity: House Speaker Nancy Pelosi is the highest-ranking US official to visit Taiwan since 1997 … I'm sorry but this trip is not anywhere near as "heroic" as the MSM is trying to sell it to be.
Steven Crowder: How Pelosi's visit to Taiwan could cause WWIII
MSM Priorities: The ice cream man is coming! The ice cream man is coming!!!
David Rutz: Reuters mocked for fact-checking spoof video of Biden being distracted by ice-cream truck music: Reuters 'actually fact-checked this. Holy cow,' one user reacted … The 'shopped' video actually lent itself perfectly to the gag. Jill Biden is clumsily delivering her speech and seems distracted as old Joe wanders off behind her and across the stage for no apparent reason. The person standing to Jill's left even seems a little confused for that moment. The original parody just had the ice cream truck's jingle coming closer as if driving, unseen, on the nearby road but the above video is the best version where somebody shopped in an ice cream truck that Joe follows across the back of the stage. But the real "fact-check" remains: The MSM (in this case Reuters) feels the need to 'fact-check' parodies, jokes, and even memes now. Recall five years ago the media not only reacted stupidly to a doctored WWE meme gif of Pres. Trump knocking out a wrestler with the CNN logo as a head, but CNN literally doxxed the guy who created the parody gif clip and he received death threats, CNN extorting an 'apology' from the guy.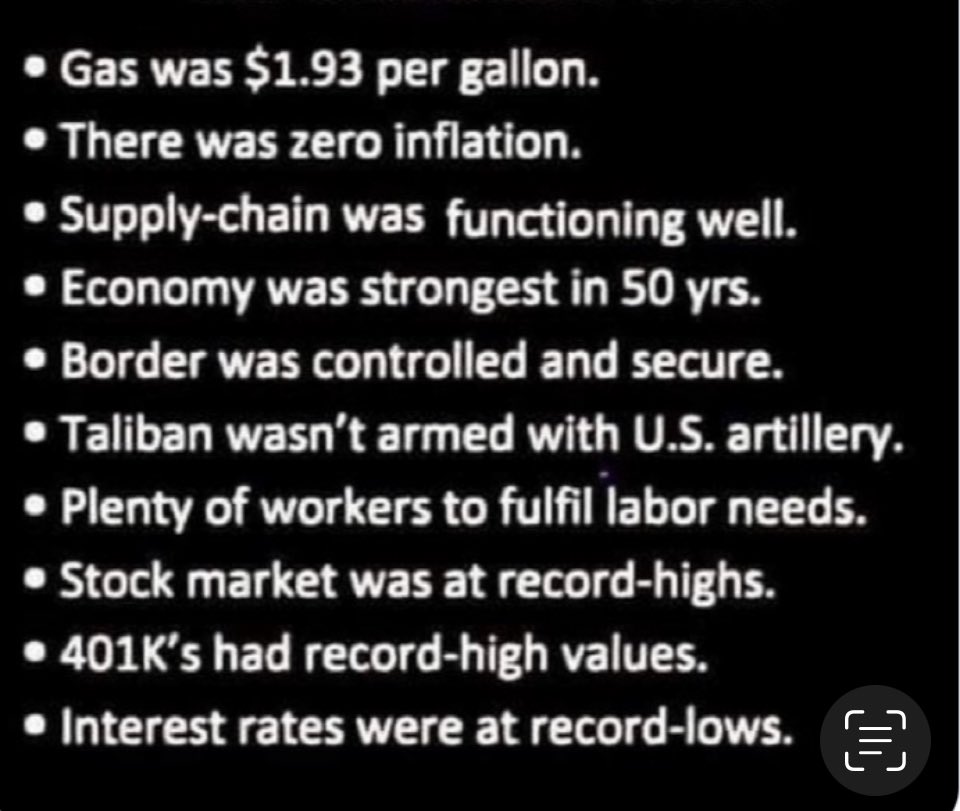 Nineteen states now offer gas under $4.

In 15 of them, gas is $3.89 or less.

— President Biden (@POTUS) August 2, 2022
The Putin price drop?

— Styxhexenhammer666 (@Styx666Official) August 2, 2022
I don't blame him but I don't accept his excuse for it either. As if he's actually doing anything.

It went up 150%.
Then it went down 15%.
Then 15%.
Then 10%.
And it's still basically 100% more than a few months ago.

I fill up twice a week. It was about $40-45, now it's $85-95.

— T-Rx 🦖🚀🏴‍☠️ ☠️ (@TrxBeats) August 2, 2022
A 'nudge' conditioning to accept a considerably higher 'new normal'. Hence why his twitter troll is pushing this as good. I've seen this before on other things. Won't go back down to anywhere it was before he took office, not while he's in office pushing GND anti-energy policies.

— Maggie (@drillanwr) August 2, 2022
MORE:
This is why Greg Gutfeld's late-night gig on FNC out-rates all the other late-night shows— combined…
"What does it say about a democrat-run city that our SPAM is locked-up but our criminals aren't. Like, HELLO!"
"The Five" rates the highest too…
Hank Berrien: 'You Make Me Sick': Gutfeld Rips Students Who Want Loan Cancellation
More 'MORE'…
Bailee Hill: Joe Manchin pressed by Harris Faulkner on Inflation Reduction Act: I won't 'roll over' to far left: Manchin insisted he has 'pushed back on everything' amid negotiations on the scaled-back Build Back Better … VIDEO … Joe pissing-dicked-out, as we feared he would.
Tyler Olson: Schumer-Manchin social spending and tax bill faces major hurdles as Dems seek quick passage: Sinema support, members' health key for Democrats seeking to quickly pass massive social spending bill
Jessica Chasmar, Thomas Catenacci: REALITY CHECK – Here's what the Manchin-Schumer bill really does, despite Democrat claims: Democrats rely on misleading messaging to sell Manchin-Schumer bill. Manchin-Schumer bill will bring tax hikes to most Americans, study says, despite Biden's past promises
FBN: Miranda Devine slams Democrats for 'lying' about recession, 'trying to fool' the American people on inflation
And so, it begins…
Newsom State of Emergency declaration says "all residents are to heed the advice of emergency officials with regard to this emergency in order to protect their safety." Read full order here: https://t.co/OZo5ecV9Ts

— Scott Shafer (@scottshafer) August 2, 2022
Sarah Polus: Newsom declares California state of emergency over monkeypox outbreak … Most worth mentioning that the CDC and other political entities, especially in places like California and New York, are still refusing to address the gay community's 'habits' that are fueling the spread of this latest contagious disease because that would be stigmatizing and hateful, or some-shit.
I assume that, using his horrendous COVID precedent, this means that King Newsom is shutting down all events where gay men might be likely to meet, right?

Gee, I wonder why not?!
🤔😡

— John Ziegler (@Zigmanfreud) August 2, 2022
Probably because there have been zero deaths from monkeypox in the US and only a handful globally.

— Jaymes, the very model of a moderna Major-General (@rechnen) August 2, 2022
Then there is no need for a "state of emergency"!

— John Ziegler (@Zigmanfreud) August 2, 2022
Exactly … and probably to perhaps get some sort of federal $$?

— Maggie (@drillanwr) August 2, 2022
Coming to the USA soon:
If you saw this video go viral, the details are even more insane.

British police arrested a guy for posting this meme on social media of the trans flag shaped like a swastika.

They also arrested the guy who filmed the video for good measure. pic.twitter.com/1nnUxZR0jU

— Greg Price (@greg_price11) July 31, 2022
DM-UK: Moment army veteran is arrested 'for causing anxiety' after retweeting meme of swastika made out of Pride flags as force is condemned by its own crime commissioner for the 'proportionality and necessity' of its response
Darren Brady, 51, slammed Hampshire Police for 'impeding right to free speech' 
Army veteran was arrested for posting meme online at his home in Aldershot 
Footage shows officer telling Mr Brady he was arrested for 'causing anxiety'
Donna Jones, crime commissioner for Hampshire, criticised Mr Brady's arrest 
Actually that's kind of insightful to have noticed that flag could puzzle together like that. Hmm. But apparently, the Nazi analogies are only permitted when referring to other people.

— Maggie (@drillanwr) August 1, 2022
And 'for causing anxiety'? So, are school teachers/professors/bosses/parents/etc. now susceptible to being arrested?

— Maggie (@drillanwr) August 1, 2022
Twitchy: WATCH: British police arrest man for the crime of '[causing] anxiety' by posting LGBTQ+ flag meme on social media