Exactly what does the MSM have to gain or lose in this current event of SCOTUS v Roe and all the rage that is being ginned-up over actual "democracy" in action? They sure seemed to be heavily invested in it, huh? Even to the point of pants-pissing hysterical hypocrisy…
NYT editorial on Roe v. Wade begins by falsely claiming states today would ban interracial marriage. A desperate slippery slope argument & a ridiculous comparison, because marrying the person you love & killing an innocent unborn child are hardly similar.https://t.co/K1zAnAVjut pic.twitter.com/ccGqOctfnX

— Jerry Dunleavy (@JerryDunleavy) May 8, 2022
Hanna Panreck: New York Times editorial board suggests some states would still opt to ban interracial marriage: The editorial board argued that the Supreme Court 'exists to protect those rights when state and local authorities refuse to' … "The editorial board argued that the Supreme Court 'exists to protect those rights when state and local authorities refuse to." Wrong. The Supreme Court exists to determine the Constitutionality of the laws.
I'm sorry but which state in America would actually opt to ban interracial marriage in the Year Of Our Lord 2022 pic.twitter.com/qtOUBpJUVl

— Nate Hochman (@njhochman) May 8, 2022
my dude have you ever looked at an opinion poll? https://t.co/0KvOcX6a3t pic.twitter.com/TeTyxlYG1P

— Nate Hochman (@njhochman) May 8, 2022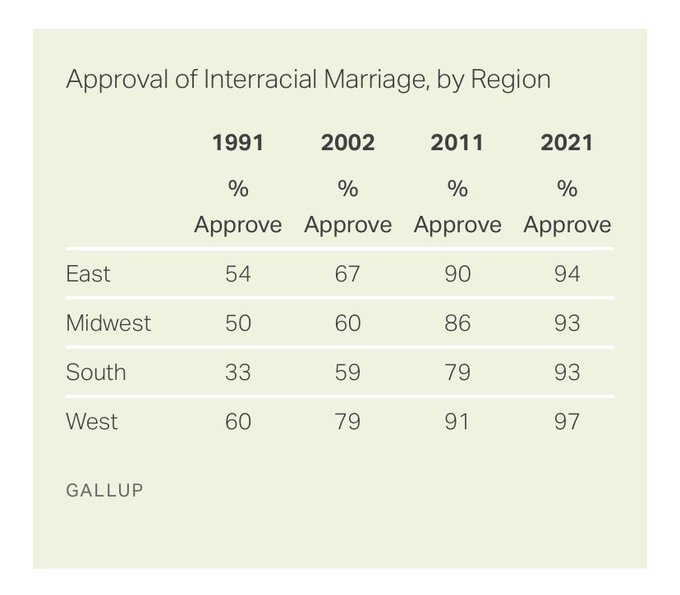 "Probably"? And this is such an easy claim to make if you don't mention any states specifically because perhaps the actual numbers on it will kneecap your argument. https://t.co/4FVOkZPulV

— Noam Blum (@neontaster) May 8, 2022
This is obviously insane, but it's a direct result of the NYT pretending the people they disagree with politically are racist and comparing every R law to Jim Crow. https://t.co/qIGDBOio2J

— AG (@AGHamilton29) May 8, 2022
The interracial marriage argument at least made *some* sense when brought up in the context of Masterpiece Cakeshop since it involved right of refusal for certain kinds of couples. Here it's just a weird attempt to assign bigotry by proxy to opponents of abortion. https://t.co/KRm4HPMiS9

— Noam Blum (@neontaster) May 8, 2022
…The New York view of the rest of the country has not changed since 1976. A vast wasteland between New York and the Pacific Ocean . . . apparently occupied by ardent racists. https://t.co/2JoAG3XkPE

— Jonathan Turley (@JonathanTurley) May 8, 2022
This is what the NYT editors actually believe: "Imagine that every state were free to choose whether to allow Black people and white people to marry. Some states would permit such marriages; others probably wouldn't." …

— Jonathan Turley (@JonathanTurley) May 8, 2022
…Of course, the willingness of the Court to outlaw interracial marriages may come as something of a surprise to Ginni Thomas. https://t.co/ZtCSucJNgy

— Jonathan Turley (@JonathanTurley) May 8, 2022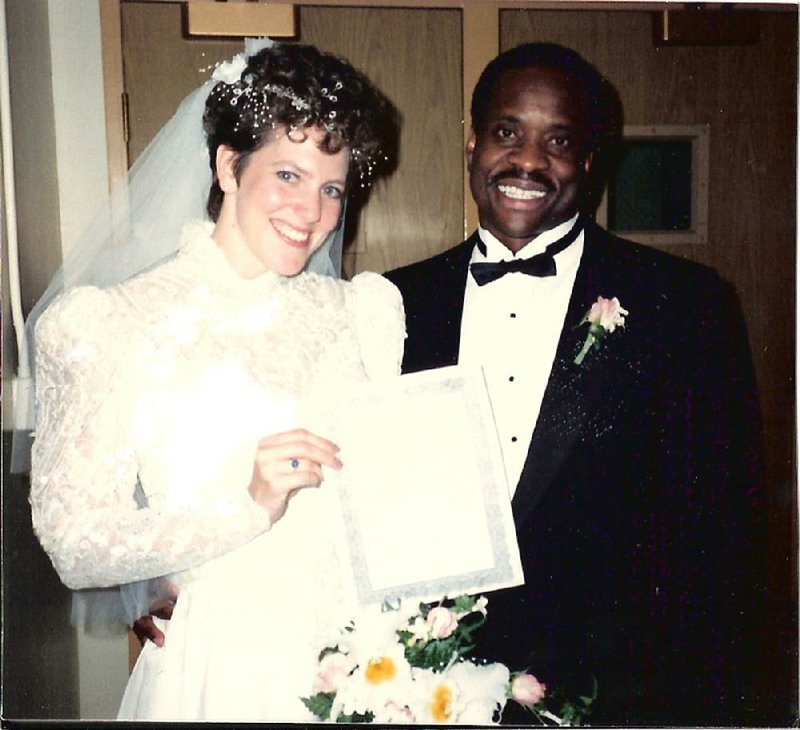 The editorial does not mention which states probably would not allow interracial marriage. That is presumably left to a later anthropological expedition into that vast wasteland west of New Jersey. On a side note, this draft opinion would not legalize bans on interracial marriage

— Jonathan Turley (@JonathanTurley) May 8, 2022
MSNBC's Dean Obeidallah responded to objections to the targeting justices: "Not F**king happening! We are just getting started!" Former Sanders national press secretary Briahna Joy Gray called to "bully them harder." These are the voices of rage addiction. https://t.co/eP8YO6Tmde

— Jonathan Turley (@JonathanTurley) May 7, 2022
Jonathan Turley: From court packing to leaking to doxing: White House yields to a national rage addiction
…Of course, the one voice that is not speaking out is President Biden who has refused to condemn the leaking or the doxxing. His silence is deafening. https://t.co/eP8YO6Tmde

— Jonathan Turley (@JonathanTurley) May 7, 2022
I like Prof. Turley's terminology of "rage addiction". It really and seriously does describe the progression of the left's salacious growth of rage-induced loss of reality over every single thing in our society the last couple decades. These folks walk around as if their hair is on fire … and now some even resort to actual self-immolation for their radical insanity.
So, apparently this is the left's "thing" to counter the alleged coming Roe v Wade SCOTUS ruling…
Sure, Fartman. Mitch McConnell, Ted Cruz, and Clarence Thomas all want to make their own marriages illegal.

— AdamInHTownTX (Not a Biologist) (@AdamInHTownTX) May 3, 2022
Twitchy: 'White liberals like YOU race-bait': GOP Texan Wesley Hunt DROPS Eric Swalwell in HEATED back and forth for claiming GOP will ban interracial marriage
The Republicans won't stop with banning abortion. They want to ban interracial marriage. Do you want to save that? Well, then you should probably vote. https://t.co/MRytdsjUBP

— Rep. Eric Swalwell (@RepSwalwell) May 3, 2022
Hi Eric, my name is Wesley Hunt, I'm a Republican nominee in a Congressional District that is 70% white. I'm black, I'm in an interracial marriage, and my wife and I have two biracial daughters. Republicans are celebrating diversity while white liberals like yourself race-bait. https://t.co/r7bSNlskVp

— Wesley Hunt (@WesleyHuntTX) May 3, 2022
Abigail Adcox: NPR's Nina Totenberg: 'Leading theory' is conservative clerk leaked abortion opinion … Archimedes said the shortest path between two points is a straight line. Totenberg runs in a long spiral to put forth this ton of bullshit. Who do you think it makes more sense to have done this with motive, a 'conservative' clerk leaking this that would seem like a win, or a leftist clerk (possibly put into motion by a leftist Justice) who intended to create the rage Turley speaks of in order to deflect attention away from all the really bad situations this administration has inflicted on Americans for nearly two years? With a precarious midterm election coming up for the demo-commies they have to try their damnedest to make abortion some lame issue going into these elections of the US Congress members. Do you really think the horrible economy, inflation, energy prices, supply line shortages, high crime, highjacked public schools by leftist ideologs, and the wide open and bleeding border with the human trafficking of illegal and unvetted aliens being dumped (by the administration with our tax dollars) into communities across the country will be kicked to the curb by voting Americans because the SCOTUS will be doing away with a pitifully bad Roe v Wade law and returning it to the individual states??
if we are going down the road of mandatory pregnancy and mandatory child birth we're going to be in 13th Amendment territory. No, I am NOT kidding.

— Jennifer 'I stand with Ukraine' Rubin 🇺🇦🇺🇦 (@JRubinBlogger) May 8, 2022
Twitchy: 'I am NOT kidding': Jennifer Rubin thinks overturning Roe may violate the 13th Amendment
WaPo's "Sure, Jen" THEN:
It is Oct. 19 and Obama is going full steam ahead on abortion and courting college kids in Ohio? Honey, Obama shrunk the base!

— Jennifer 'I stand with Ukraine' Rubin 🇺🇦🇺🇦 (@JRubinBlogger) October 19, 2012
@RichardGrenell @lis_smith @mittromney is Obama still for abortion in demand up to the moment of birth, at tax payers expense?

— Jennifer 'I stand with Ukraine' Rubin 🇺🇦🇺🇦 (@JRubinBlogger) October 10, 2012
WaPo's "Sure, Jen" NOW:
sounds like involuntary servitude to me.

— Jennifer 'I stand with Ukraine' Rubin 🇺🇦🇺🇦 (@JRubinBlogger) May 8, 2022
That's quite a pod-people transformation there.
Bless yer heart, you really do try…

Pitiful.
Intellectually dishonest.
What were you promised when you sold out your ethics and integrity?

— Yeah, it's me. (@PotMeetsKettle) May 8, 2022
Twitchy: Run you COWARD! Blue-check 'reporter' DELETES account after being DRAGGED mercilessly over tweet calling for MORE violence against pro-life
Caroline Reilly (@ms_creilly), a reporter for @RewireNewsGroup, has called for more arson attacks against anti-abortion groups & suggested an escalation to deadly political violence. pic.twitter.com/OBoE4DJbX5

— Andy Ngô 🏳️‍🌈 (@MrAndyNgo) May 9, 2022
Yeah, pretty sure that goes above and beyond "yelling fire in a crowded theater".
Meanwhile, the political F**KING lunatic fringe left's abortion-fetishizing henchmen…
VIDEO WARNING: GRAPHIC LANGUAGE AND VISUAL…
This shit will not only not change the minds of those who are pro-life but will push those weakly 'pro-choice' folks away from these bloodthirsty vampires agenda. And pay close attention to the last couple of minutes of the video where protestors are demanding that the government pretty much become fully responsible at every level for any babies allowed to be born by these monsters.
This is @MSNBC & to call this gross would be an understatement. #MSNBC Panel Breaks Down When Guest Says She Wants to 'Make Sweet Love' to the #SCOTUS #Leaker and 'Joyfully #Abort Our #Fetus' #LaurieKilmartin #AymanMohyeldin #RoeVWade #ProChoiceIsProLife#prolife #SupremeCourt pic.twitter.com/WfbvuGADeP

— Sn00pster 🎙️ (@sn00pdad) May 9, 2022
Casandra Fairbanks: WATCH: MSNBC Guest Says She Wants to 'Make Sweet Love' to SCOTUS Leaker, and 'Joyfully Abort Our Fetus' … Every time I hear these people displayed by the MSM either on air in a panel or on video in the streets I can't help but have bold flashes of "The Strain" flood my mind.
Any GOP:
'I don't think the SCOTUS should make law. This issue should be handled by the states and left to the people to decide.'

The left:
YOU SUPPORT JIM CROW AND WANT TO THROW WOMEN AND GAYS IN PRISON!!!

All while waving the flag of democracy around like its a magic wand.

— Chad Felix Greene 🇮🇱 (@chadfelixg) May 8, 2022
Stephen Kruiser: The Morning Briefing: Already Unhinged Abortion Cretins Sink to New Lows
Grace Curley: Roe leak reveals the latest liberal double-standards: The latest liberal meltdowns from the far-left reveal the progressive ideology is rife with contradictions and double standards…
Stuff your rosaries and your weaponized prayer.

We will remain outraged after this weekend, so keep praying.

We'll be burning the Eucharist to show our disgust for the abuse Catholic Churches have condoned for centuries. pic.twitter.com/1UxAkyuXTg

— Ruth Sent Us 🪧 (@RuthSentUs) May 7, 2022
Twitchy: Ruth Sent Us says to 'stuff your rosaries' because they'll be burning the Eucharist to show their disgust
I'm wondering if they're doused with Holy Water do ya think they'll, well, you know…
No ,it's not hysterical or alarmist ,They will traffic babies that many women can't afford to keep .There is a huge money making market world wide for babies and behind that is organ trafficking the majority Supreme Court justices are officially the satanic force.

— ✌🏼rosanna arquette (@RoArquette) May 7, 2022
And oddly she's all-in for the illegal 'human trafficking' of millions going on these last near 16 months on our border.
J.J. Sefton @ AoSHQ: Monday and as the saying goes, "Projection ain't just a river in Egypt." I give you this headline from Friday: CNN Warns of "Far Right" Violence After Roe v. Wade Leak…
Mollie Hemingway and Carrie Severino: The Kavanaugh Circus Continues, More Dangerous Than Ever: The left failed to defeat Kavanaugh in 2018, but they did not shed their radicalism — they only got more strident.
See, this is what democracy looks like … as well as 'federalism', and how this is supposed to work in the USA…
GP The people protesting out in front of Supreme Court justices should properly be protesting out in front of their members of Congress' homes.

Which is the entire point of the leaked draft Dobbs opinion.

— The Gormogons (@Gormogons) May 9, 2022
Tristan Justice: Five Pro-Abortion Bills California Wants To Pass In Light Of Draft Roe Opinion: California is on a fast track to becoming the abortion capital of the country. … Imagine the moneymaking abortion tourist industry California could build, eh? New York and New Jersey too. All those deep blue states could offer budget-to-exclusive all-inclusive trip packages to their abortion resorts. Now then, put them on the ballot and have Californians vote not only for their passage and implementation, but to fund it with their tax dollars.
Michael Lee: Supreme Court's majority vote to overturn Roe remains intact: Report – Roberts is still attempting to persuade Coney Barrett and Kavanaugh to take a more incremental approach
Rick Moran: Screaming About Abortion Rights Is Easy. It's Democracy That's Hard
If you're in favor of abortion rights, even the dullards among you have to recognize that it's better for society and the country if the decision on what those rights should be is made by the people acting through their elected representatives. The entire basis for your protest is that seven men shouldn't have the right to decide what to do about the issue of abortion.

You're right. I know you don't mean to be right. But the thesis of your argument is spot on. Abortion is a cultural issue and, as such, should be decided the old-fashioned democratic way: by a vote. Not by one court made up of nine justices but by a state, or even the nation as a whole. It's why we send representatives to our statehouses and Congress. It's time we made them earn their money and forced them to vote on abortion.

This would actually be a godsend for the pro-choice movement. Political action is their bread and butter. But, alas, democracy is just too damn hard! …
Sidenote: Was "seven men" that made the very bad Roe v Wade decision in the 1970s. The pro-aborts just can't get a grip on that part of their failed self-contradictory argument.
What happens when, you know, you actually allow facts to override your unhinged rage addiction…
Twitchy: Bill Maher admits he didn't know Europe has more restrictive abortion laws than the U.S.
This week Bill Maher learned European countries have far more restrictive abortion laws than we do in America and that women report being pro-life more often than men. How many people have no clue about this or about fetal pain science? If they did, some might change. pic.twitter.com/8RjUXtrbVX

— Robby Starbuck (@robbystarbuck) May 8, 2022
The left refuses the facts on 'fetal pain science' because it humanizes what they dismiss is nothing but a clump of cells.
Can these people get anymore Orwellian:
And consider those J6ers who have been unconstitutionally imprisoned for over a year in DC without hearings/trials as victims of "Room 101", so, yeah…
Where have we seen this before? 🤔

Political activism disguised as scientific advancement.

Medicine cannot be a weapon used to divide communities, and Florida's guidance will not change due to political pressure. pic.twitter.com/6JXRFYJbBp

— Joseph A. Ladapo, MD, PhD (@FLSurgeonGen) May 5, 2022
Jon Brown: Medical textbook strips gender dysphoria definition after being cited by Florida: Flordia's surgeon general slammed the move as 'political activism disguised as scientific advancement'
"Medicine cannot be a weapon used to divide communities, and Florida's guidance will not change due to political pressure," Ladapo added.

Merck removed the definition from its website after Ladapo released a fact sheet on April 20 in response to guidelines from the Department of Health and Human Services (HHS) in March…
They're going to pretend this doesn't exist. They're going to run into the brick wall of reality.

— Keith Maniac, from Guatemala (@from_maniac) May 8, 2022
Sharon Supp: New Biden Title IX Order Will Help Schools Push Transgenderism On Your Kids Behind Your Back: Redefinining the word 'sex' in Title IX will pressure schools to mislead distressed children into thinking that they can change their sex.
It's Putin's maniacal mental breakdown and we're all forced to attend:
Tyler O'Neil: Putin accuses the West of backing threats of 'nuclear war,' provoking Ukraine conflict: Putin claims Ukraine posed a threat, Russia had to defend itself and the West is engaging in 'international terrorism'
Peter Aitken: Russian space agency chief boasts nuclear capabilities, claims NATO would lose 'in 30 minutes': Dmitry Rogozin has previously made 'erratic' comments
Meanwhile, SpaceX giant v neo-USSR thug…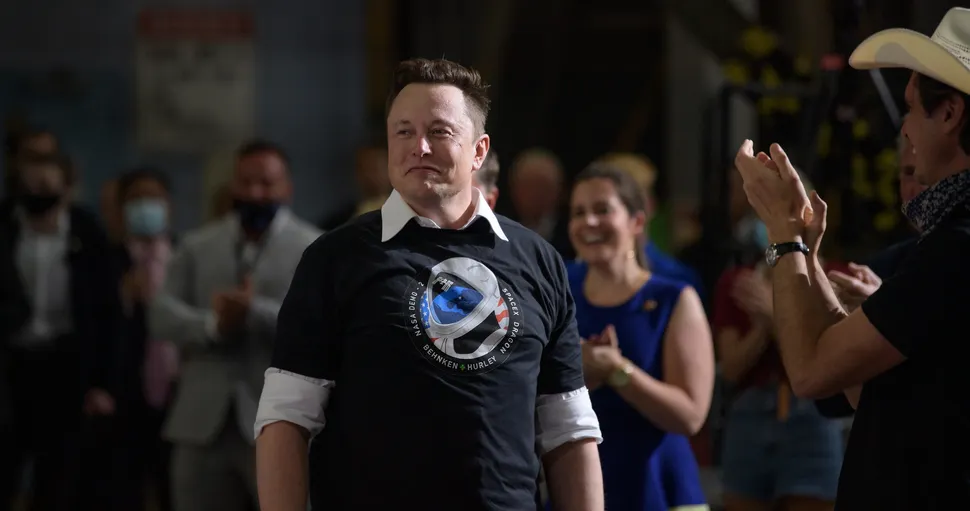 Musk's Starlink satellite network has been providing Ukraine with communication access since Russia invaded and shutdown the previous networks they were providing.
Mike Wall: Russian space chief Dmitry Rogozin apparently threatens Elon Musk
If I die under mysterious circumstances, it's been nice knowin ya

— Elon Musk (@elonmusk) May 9, 2022
That's not funny😠😠 https://t.co/KgLAzY3F8s

— Maye Musk (@mayemusk) May 9, 2022
Sorry! I will do my best to stay alive.

— Elon Musk (@elonmusk) May 9, 2022
I am assuming you have some of the top-of-the-line Geiger counters to check all food/drink… Russian 'nukes' aren't always in bomb form.

— Maggie (@drillanwr) May 9, 2022
Tyler O'Neil: TRYING 'TO STAY ALIVE' – Elon Musk sets internet on fire with cryptic tweet about dying 'under mysterious circumstances': Some suggested the Tesla CEO's cryptic tweet about death under 'mysterious circumstances' might be referring to the Clintons, but it seems Musk is likely more worried about Russia … But it's not just Vlad…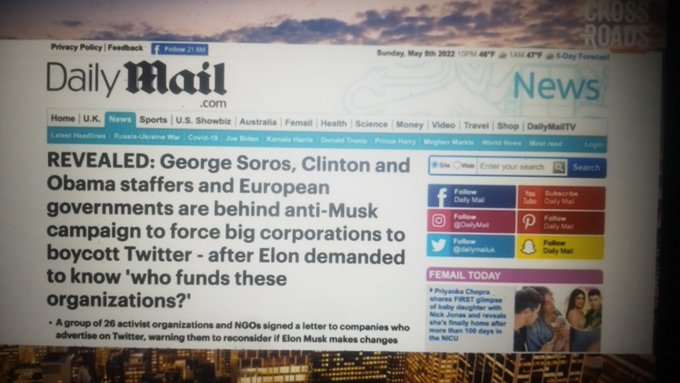 Robert Spencer: Now the FTC Is Going After Musk Over Twitter
Wasting Away Again in Brandon Bidenville:
The stock market is tanking again today, meaning we are rapidly approaching the stock market turning negative for the 18 months Joe Biden has been in office. It's truly remarkable how Biden is failing on every possible issue simultaneously. I've never seen anything like it.

— Clay Travis (@ClayTravis) May 9, 2022
Thomas Catenacci: Biden Copies Trump Proposal To Refill Oil Reserves — And Spends Way More Doing It
Kevin Downey, Jr: Happy Mother's Day! New Moms Face Baby Formula Shortage
Kelsey Koberg: Lawmakers sound the alarm on Biden's plan to cancel student loan debt: 'Crazy idea': Members of the media have encouraged Biden to cancel student loan debt, and criticized those who oppose the action
Brian C. Joondeph: Stagflation – Another Blast from the Past
Jon Feere: There's A Solution To Biden's Illegal Immigration And It's Staring Him In The Face
Monica Showalter: Biden DOJ sets up a new 'Office of Environmental Justice' — headed by another fanatic
ZeroHedge: Spring Wheat Hits 14-Year High On World War 3 & Weather Woes
MORE:
You see, the Biden Ministry of Truth will indeed see itself dragged to the SCOTUS at some point…
Jeff Jacoby: Boston's ignominious record of disrespecting free speech: From the Supreme Court comes yet another 9-0 rebuke.
TCF: Federal free speech lawsuit against Virginia Tech continues: Speech First appealed to the Fourth U.S. Circuit Court of Appeals for a preliminary injunction against Virginia Tech's bias response team and "information activities policy."…
CBD @ AoSHQ: Do You Really Need More Proof Of The Stupidity And Laziness Of Our Media? Because Here Is A Perfect Example: Unions Are Resurgent…Except…They Really Aren't
Jim Hoft: SUCH BS: Latest Star Trek Spinoff Suggests World War III Started with Jan. 6 Protests in DC
Chase Martin: Why Won't Biden Explain Why He's Getting Federal Agencies To Meddle In Local Elections? The Biden administration's silence is an attempt to get America to look the other way while they illegally involve themselves in state elections.
Andrea Widburg: The riveting '2000 Mules' proves there was massive election fraud
Jim Hoft: NOTE TO STACEY ABRAMS – FIND A GOOD LAWYER: True the Vote Announces They Are Releasing Addresses of ALL Ballot Trafficking Stash Houses
WUWT: The Coldest April in the Satellite Record over the Pacific Northwest … The climate change cultists will claim this too is a sign of 'climate change'.
They'll be making a Hollywood movie hero of this millions-peddling foreign agent, entitled sex, porn, and drug addicted DC brat…
Miranda Devine, Marjorie Hernandez and Patrick Reilly: Hollywood lawyer paid off over $2M of Hunter Biden's delinquent taxes
Kevin Morris, an entertainment attorney and novelist who earned a fortune representing the co-creators of "South Park" and won a Tony award as the co-producer of "The Book of Mormon," footed Hunter Biden's overdue taxes totaling over $2 million — more than twice that which was previously reported, a source familiar with conversations between the two told the Post.

Morris, whom Hunter Biden's friends call his latest "sugar brother," has also been funding the 52-year-old's lifestyle in Los Angeles — including his rent and living expenses, the source said.

The attorney has also been advising the president's son on how to structure his art sales, according to the source.
Jim Hoft: NOW THERE'S PROOF: Joe Biden Pictured at Beverly Hilton the Day After Reported Meeting with Tony Bobulinski in Same Hotel